The charming seaside town of Menton, on the Cote D'Azur near the French-Italian border, is home to a unique festival. For three weeks every winter, the town's streets and gardens are decorated with thousands of tons of oranges and lemons. The Menton Lemon Festival (Fête du Citron) attracts 240,000 visitors, who come to marvel at the giant sculptures made of citrus fruits installed in the Jardins Biovès, a pretty park in the heart of the town.
The theme for this year's festival is Cinecittà, paying homage to the film studio associated with giants of Italian cinema such as Luchino Visconti, Federico Fellini and Sergio Leone. Around 145 tons of citrus fruits will be used to recreate scenes from films such as Cleopatra, La Dolce Vita and Romeo and Juliet.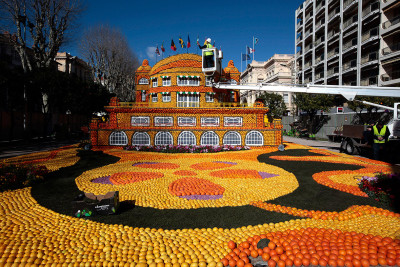 The festival has its origins in the late 1920s, when the management of the Hotel Riviera came up with the idea of staging and exhibition of flowers and fruit in the gardens to boost tourism out of season. The 2016 Menton Lemon Festival runs from 13 February to 2 March.