Meredith Kercher killer Rudy Guede admits to writing on wall with her blood but claims innocence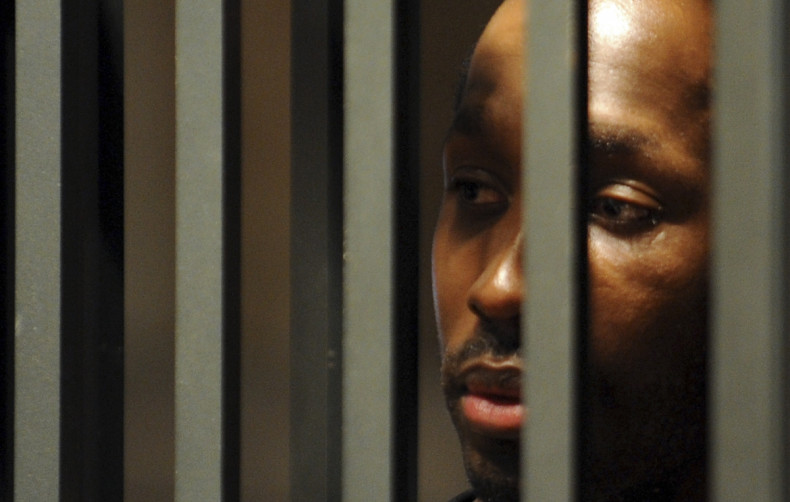 Convicted Meredith Kercher murderer Rudy Guede admitted to writing on a wall in the British student's blood while maintaining his innocence. Guede, who is serving a 16-year sentence, spoke of the 21-year-old's final moments during an interview from prison on Thursday (21 January) with Italian television.
Guede did a brief interview with the programme Cursed Stories, where he claimed he was in a bathroom at Kercher's apartment when he heard a "heartrending cry," The Mirror reported. "At that moment I see Meredith on the ground and abundance of blood. I go to the bathroom and take a towel and try to staunch the wound in the neck," the 30-year-old from the Ivory Coast said.
"I take another and then another....It was heartbreaking that moment, you try to do the best," he continued. "....She was trying to tell me something. I wrote in blood on the wall to even understand....fear overwhelmed me."
Despite admitting to writing in Kercher's blood, Guede protested that he was innocent and that "Justice for Meredith has not been done". "I cannot get another day in prison for killing Meredith." According to the MailOnline, Guede also claimed that there is no DNA evidence linking him to the murder weapon.
Guede is one of three people charged in Kercher's murder, but is the only one still incarcerated. Kercher's American roommate Amanda Knox and Knox's then boyfriend Raffaele Sollecito each served four years in prison for the 2007 murder. After going on trial five times, Knox and Sollecito were cleared of the murder in March 2015 when Italy's highest court overturned their convictions.
According to The Mirror, Sollecito has received £47,000 in public assistance to create an app intended to commemorate the dead. The app, dubbed "Memories," allegedly came to him while in prison, he told Italian newspaper Corriere della Sera. "It came to me when I was in prison in Terni and I thought of my mother. I couldn't go to visit her grave and being far away from her was painful. So the idea for 'Memories' was born," he said.
Sollecito also told the newspaper that he no longer considers his former girlfriend a friend. "We had only just met when we were tied together by a powerful experience," he said. He added he hoped his family could meet with Kercher's family to "clear everything up once and for all."
The slain student's family have ordered Sollecito and Knox to stay away and to not visit Kercher's grave, despite being declared innocent. "To go against our personal wishes would be disrespectful and unacceptable," Kercher's sister Stephanie Kercher, said in December. "Meredith should have at least the right to rest in peace finally."
Following their release, Knox promptly returned to the US and finished her degree in Creative Writing. Knox is now engaged to musician Colin Sutherland. She is reportedly working as a journalist in Seattle, Washington.