Met Gala 2015: Rihanna, Sarah Jessica Parker and Miley Cyrus mocked by memes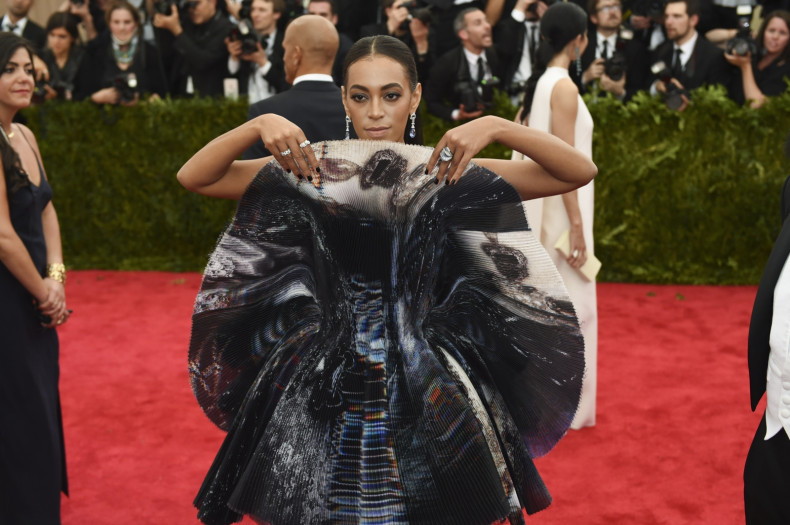 Rihanna, Jennifer Lawrence, Robert Pattinson and Madonna were all guests at the Met Gala in New York yesterday (4 May) alongside many other famous faces from film, television, music and fashion.
The annual fundraising event is held in benefit of Metropolitan Museum of Art's Costume Institute and usually marks the Institute's yearly fashion exhibition. A dress code for attendees is decided before the event, corresponding to the subject of the exhibit being held that year and this year was no exception.
The theme of 2015 was China: Through The Looking Glass, leading to many flamboyant and decorative outfits adorning the red carpet. Because of the ball's association with costume, many celebrities often attempt quite daring looks – which can sometimes lead to ridicule from viewers on social media sites – and a few in particular caught attention last night.
Met Gala memes really took off two years ago when a heavily pregnant Kim Kardashian wore a long-sleeved, floor-length floral dress that had Twitter and Instagram users comparing her to a patterned sofa or even Robin Williams in 1993 film Mrs Doubtfire, and they seem to have become something of a tradition.
Here are some of the stars that attended yesterday who suffered the same fate as Kardashian in 2013...
Solange Knowles
It was at the Met Gala last year when Knowles was seen physically attacking brother-in-law Jay-Z in an elevator. A leaked security video captured the incident but with no sound and neither of the stars involved commenting on what happened afterwards, it was never revealed what the rapper did to upset the singer.
Following on from that, Knowles was bound to be the subject of a few jokes surrounding last year's mishap and when she wore a Giles dress that constricted her arm movements, the meme makers must have rejoiced.
Sarah Jessica Parker
Parker's outfit sparked a lot of attention at the Gala, but unfortunately for the Sex And The City star, it was for all the wrong reasons.
In keeping with the Chinese theme but perhaps a little over-powering for the slim actress, her Philip Treacy custom headdress was a deal breaker for some viewers when it came to her whole ensemble, some even likening it to the fire icon from an emoji keyboard.
The reds and blacks of Parker's outfit also reminded some viewers of villain Jafar from animated movie Aladdin.
Rihanna
Much like Sarah Jessica Parker, Rihanna received a huge backlash for her choice of outfit and was inarguably the most talked about celebrity after she showcased her bright yellow Guo Pei robe on the red carpet.
With comparisons to SpongeBob Squarepants, Sesame Street's Big Bird and even an omelette, Rihanna probably didn't mind the references to her looking like a Disney princess so much.
Katy Perry, Madonna and Lady Gaga
Katy Perry's KatyCats and Lady Gaga's Monsters have long feuded with one another, claiming that their idols don't get along and are constantly messing with each other's careers. However, the Queens of Pop decided to prove that's far from the truth by cuddling up with each other and Madonna for the camera at the Met Gala.
In honour of the trio's new-found friendship, a viewer photo-shopped the singers onto an image of The Last Supper painting by Leonardo da Vinci. We wonder who they intended to be Jesus?
Miley Cyrus
Not one to shy away from alternative looks, Cyrus accompanied her tight-fitting, black, embellished dress with slicked-back metallic blue hair, causing some Twitter viewers to conclude that she looked like Gollum from the Lord Of The Rings.
Other memes made out that Cyrus resembled Orville the duck, Randall from Monsters Inc and even a worm-alien from Men In Black.
Jason Derulo
A photograph has been circulating Twitter since the gala of Jason Derulo apparently falling down a flight of stairs at the event, but there's one problem with that that the star is keen to put right – he wasn't even there!
When images started to emerge all over social media, the Trumpets singer took to his personal Instagram to make his very own meme, demonstrating his confusion and explaining that he was actually in a rehearsal in Los Angeles during the ball.
Anne Hathaway
It seems like the internet has gone so Star Wars-mad in anticipation of Episode VII: The Force Awakens being released this December that references are being imagined everywhere.
Hathaway was draped in a head-to-toe gold Ralph Lauren dress in an attempt to dazzle on the bright red carpet but instead the Interstellar actress had mocking viewers simply wondering where her trusty companion R2-D2 was.