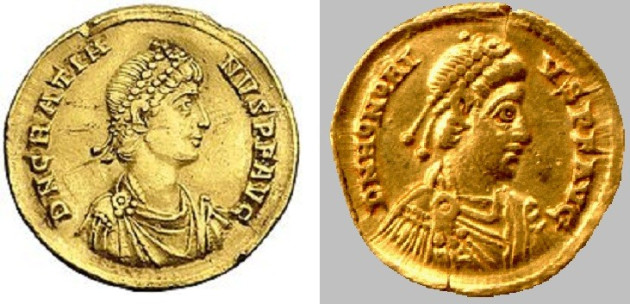 A novice treasure hunter uncovered a trove of ancient Roman coins on his first expedition after watching YouTube videos for lessons.
Wesley Carrington found 55 coins from all across the old empire, including Turkey, Greece, Germany and France, in an anonymous patch of woodland near St Albans in Hertfordshire.
Finding shiny coin after shiny coin in the soil as he dug was "like a blur," he said.
Experts have ruled the amateur's first-ever find with his cheap metal detector of "national significance" and is worth up to £100,000 ($150,000).
Commenting on his slice of amazing luck, Carrington quipped that finding the 1,600 year-old coins means he may have "peaked early" in his detecting career.
He is now set for a share of the proceeds from the auction of the collection.
That is quite some coup for the Herts resident on what was his first treasure-hunt with a £135 metal detector from a local hardware store.
The implement started beeping to signal his first haul of coins - known as solidi, only 20 minutes after he switched it on.
Carrington told the Daily Mail: 'I've never been metal detecting before. I just thought I would give it a go.
"I've watched a couple of YouTube clips to see how you do it. I would say after about 20 minutes it beeped. I dug up a bit of ground and started breaking it up.
"I found a coin that was gold-coloured, with a Roman figure on it. I knew what it was but I didn't realise the significance of it.
"When they all started coming out it sort of merged into a blur."
A team which went to the spot after Carrington found more coins totalling 104.
On the faces of the coins were emperors from the late age of the Roman empire, Gratian and Honorius.
Gratian ruled as the supreme leader of Rome between 375 and 383AD. Honorius became emperor when he was only 10 and reigned from 384AD to 423. Between their reigns, a usurper called Magnus Maximus briefly seized the crown.
Honorius' tenure was marked by the first of three sackings of Rome which marked its decline from impregnable powerhouse of the known world.
Expert Julian Watters labelled Carrington's find "spectacular."
"I had only previously seen four Roman gold coins out of 50,000 finds."