Metal Gear Solid 5: The Definitive Experience gets October release date
MGS5's definitive edition packages together Ground Zeroes, The Phantom Pain and all DLC to date.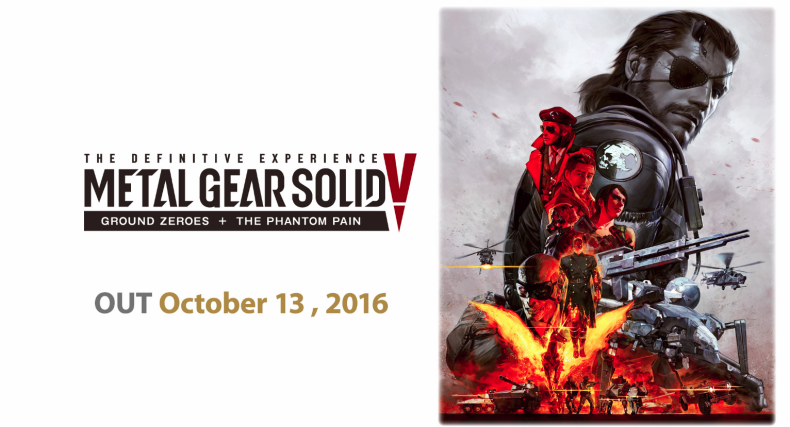 The Metal Gear Solid 5 collection packaging together Ground Zeroes and The Phantom Pain is real, according to a product listing on Konami's website. No official announcement has been made, but the game is set to be released on PS4, Xbox One and PC on 13 October.
Called Metal Gear Solid 5: The Definitive Experience, the listing notes that the package includes the standalone prologue released in 2014 as well as last year's main game and a full set of DLC for both those and Metal Gear Online (MGO).
The DLC includes weapons, shields, costumes and other items for The Phantom Pain, the Déjà Vu and Jamais Vu missions for Ground Zeroes and the expansion pack, Basic, Battle, Dance and Hero Appeal Packs for MGO – The Phantom Pain's competitive multiplayer component.
A definitive edition was rumoured in late July after it appeared at multiple retailers.
The Phantom Pain was one of the most anticipated, and ultimately one of the most celebrated games of 2015. It also marked the end of series creator Hideo Kojima's involvement in the series following the well-publicised rift between him and former paymasters Konami, and his eventual departure from the company in December 2015.
In our review we called The Phantom Pain "the natural evolution of Metal Gear," adding: "In terms of innovating and changing with the times, there is no series like it – and the result is nothing short of a marvel. Problems big and small surround it, but the core of The Phantom Pain is an extraordinary delight. An astonishing set of gameplay mechanics that come together to create the most dynamic, natural and open stealth game ever made, and one of the greatest."
News of the definitive edition follows the announcement of Metal Gear Survive in mid August: a new multiplayer focused spin-off featuring players playing cooperatively to defeat zombie hordes.
For all the latest video game news follow us on Twitter @IBTGamesUK