Mexico president Enrique Pena Nieto wants to legalise gay marriages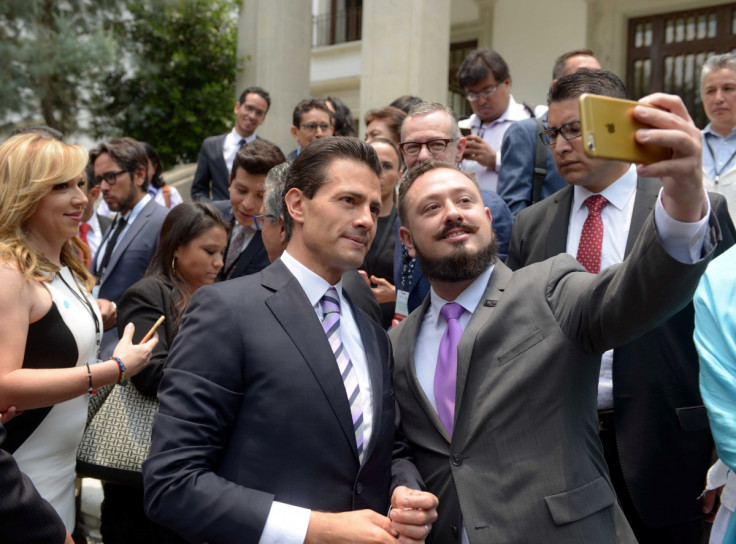 Veering away from the country's traditional standpoint, the president of Mexico has proposed to legalise gay marriages nationally. On 17 May, Enrique Pena Nieto said he planned to submit a proposal to Congress that wold recognise "the right to enter into marriage without any discrimination".
Announcing the move on his Twitter account on International Day Against Homophobia, Transphobia and Biphobia, Pena Niento wrote: "I signed reform initiatives to boost the #MatrimonioIgualitario is enshrined in the Constitution and the Federal Civil Code.
"These reform initiatives are modelled @SCJN criteria in favour of non-discrimination #SinHomofobia."
In 2015, Mexico's Supreme Court ruled that it was unconstitutional for states to bar such couples from wedding and urged states to legalise same-sex marriages. Mexico City and the states of Coahuila, Quintana Roo, Jalisco, Nayarit, Chihuahua and Sonora have opted to legalise it but many other traditionally conservative ones have not changed their statuses and gay marriages are still banned by local law.
Pena Nieto mentioned he aims to amend Article 4 of the constitution to reflect the Supreme Court opinion "to recognise as a human right that people can enter into marriage without any kind of discrimination".
He ventured to explain that discrimination should not be based on "ethnicity or nationality, of disabilities, of social or health conditions, of religion, of gender or sexual preference".
If approved, Mexico will become the fifth country in Latin America to legalise same-sex marriages. Argentina, Uruguay and Brazil and Colombia have already made it a constitutional right.
While the launch of this progressive policy is being celebrated by the country's LGBT community, a number of church officials have criticised the plan and urged Congress to oppose the initiative. Reverend Hugo Valdemar, spokesman for the Catholic Archdiocese of Mexico City, said: "Marriage has some very concrete aims which, of course, two people of the same sex do not fulfil."
© Copyright IBTimes 2023. All rights reserved.