A top Mexican prosecutor has said that more than 250 skulls have been recovered by investigators on the outskirts of the port city of Veracruz over the last several months. On Tuesday (14 March), Jorge Winckler, attorney general of the Gulf state of Veracruz, said that the area is most likely a secret burial ground of drug gangs operating in the region.
He noted that investigations were still underway and more skulls could be recovered. "So far more than 250 skulls have appeared. Veracruz is an enormous grave. ... By the time they're done opening graves in the state it's going to be the biggest grave in Mexico and maybe one of the biggest in the world," Winckler was quoted as saying by Reuters.
With 2,400 people still missing in the city, the attorney general said that it is hard to "imagine how many more people are illegally buried there".
The discovery of the skulls came after advocacy groups like Colectivo Solecito pressed authorities to dig up the site to find the victims.
"For many years, the drug cartels disappeared people and the authorities were complacent," Winckler alleged, while indirectly targeting the administration of former governor of Veracruz Javier Duarte and his predecessors.
Duarte, who has been on the run since organised crime charges were brought against him in October 2016, resigned as governor two months before his term ended. He faces charges including money laundering and "looting state treasury".
Sources said the new mass grave held clothes and documents, belonging mostly to young people. "They look like inner-city kids," one told The Times
The discovery of such mass graves is not new in Mexico. In 2010 and 2011, scores of bodies were recovered from separate locations in the north of the country, following escalation in violence between drug gangs.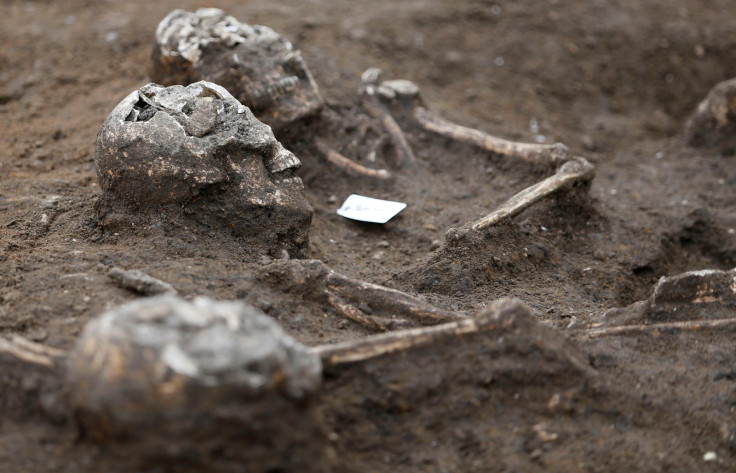 When President Enrique Pena Nieto took office at the end of 2012, he had pledged to end drug violence in the country, but according to reports his administration has failed to do so as 2016 was the bloodiest year under his administration.
Also, the disappearance of 43 students in September 2014 questioned his capability of working against drug cartels.