A British man has been charged with posting an offensive tweet about the Newcastle United fans who died in the Malaysia Airlines flight MH17 plane disaster.
Northumbria Police say Mitchaell Tace Chapman, 18, from Sunderland, will appear before magistrates in the city on 11 August.
Chapman, believed to be a fan of Newcastle's rivals Sunderland, tweeted: "Such a tragedy that there was only 2 Newcastle fans on the plane and not 100. RIP fellas".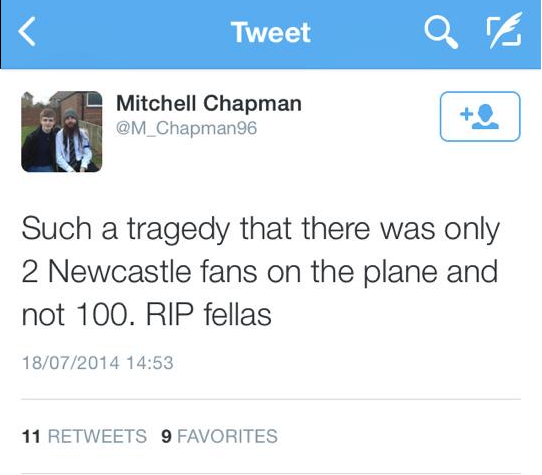 It was retweeted more than ten times and sparked a Facebook page entitled "Mitchell Chapman Should Be Banned By Sunderland AFC", which states Chapman should "receive a lifetime ban" from the club "after his vile comments glorifying the deaths of the Newcastle United fans.
Chapman's tweet relates to the tragic death of two Newcastle United fans, John Alder, 63, and Liam Sweeney, 28, who were flying to New Zealand to watch their team play in the pre-season friendlies.
The tragedy spurred fans of Sunderland AFC to raise money in their honour – the total now standing at over £31,000.
Chapman is charged with making a "malicious communication", which police said is in connection with "remarks posted on Twitter relating to two of the men who died" on flight MH17.