The homeless victim in the Miami face-eating attack is reportedly in high spirits and recovering but there are fears the attack will leave him blind.
Ronald Poppo,65, lost half his face - less than previously reported - after the attack by Rudy Eugene on May 26.
He has been in a critical condition at Jackson Memorial Hospital's Ryder Trauma Centre but is said to be talking and walking with the assistance of hospital staff.
Nicholas Namias, a University of Miami trauma surgeon and co-director of the centre, said: "He's s feeling well, he's eating, he's walking around with physical therapy, he's talking with us."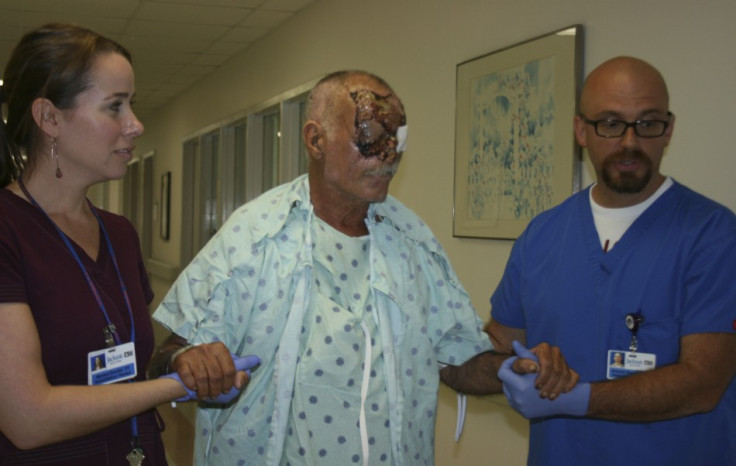 Poppo is said to have requested that the TV set in his room is turned off except for the Miami Heat basketball team's game in the NBA finals against Oklahoma City Thunder.
Doctors have confirmed that Poppo's left eye has been removed and he cannot see out of his right eye, although doctors are hopeful he will regain some vision.
Poppo also suffered two puncture wounds to his chest, believed to have been caused when police confronted Eugene during the attack - and a brain injury similar to that experience by many car crash victims, Namias said.
Poppo has had three operations and will require more before he is fully recovered. Doctors have said he is likely to remain at the in hospital for weeks at least.
He has never complained about his pain, medical staff added.
"He's really just living in the moment and just wants to talk about routine things," said Naimas.
Police shot and killed Eugene, 31, during the 18-minute attack just off the MacArthur Causeway. CCTV footage shows the two men lying naked on the ground during the incident.
A witness described Eugene ripping at Poppo's face with his mouth and growling at a Miami police officer before he opened fire. Eugene reportedly carried on eating Poppo's face even after he had been wounded.
A funeral was held for Eugene on 16 May. Friends and family are said to be confused by the attack. Eugene's girlfriend said he was a religious man and believed he would have been a good father