Michael Bisping believes Robert Whittaker has a bigger claim at fighting for his title than current number one contender Yoel Romero.
The middleweight champion was expected to fight Romero this year until it was announced in March that Bisping would instead face the returning Georges St-Pierre.
The British fighter later claimed he would give Romero an immediate title shot after he defeated "GSP" before slamming the Cuban for suggesting an interim title fight.
Following Robert Whittaker's impressive win over number three ranked middleweight contender Ronaldo "Jacare" Souza, Bisping praised the Australian who called him out following the fight.
"Robert Whittaker looked great, the kid is on fire, the kid is doing well," Bisping said on his podcast. "Nothing but praise for Robert Whittaker there, good footwork, decent takedown defense, we've seen him knock people out before and of course, he got the job done [against Jacare]."
"He called me out on the microphone immediately after and of course, he should do that. I'm the champion and you should want to fight the champion. Fair play to him. Listen, I've got no qualms fighting Robert Whittaker. Let's just make that abundantly clear right now because there are some websites that are like 'Bisping hasn't responded'."
However, Bisping then said that the 26-year-old was a more worthy contender for his belt than Romero.
"I'm responding right now because Yoel Romero is a dirty, lying cheating scumbag," he added. "If they want to do Whittaker after I've beaten GSP, we can."
"If not, I'll do Romero, whatever. I see Robert as a more worthy contender. He stopped Jacare, Romero didn't stop Jacare. And Robert hasn't tested positive for steroids, so really I think it should be Robert next."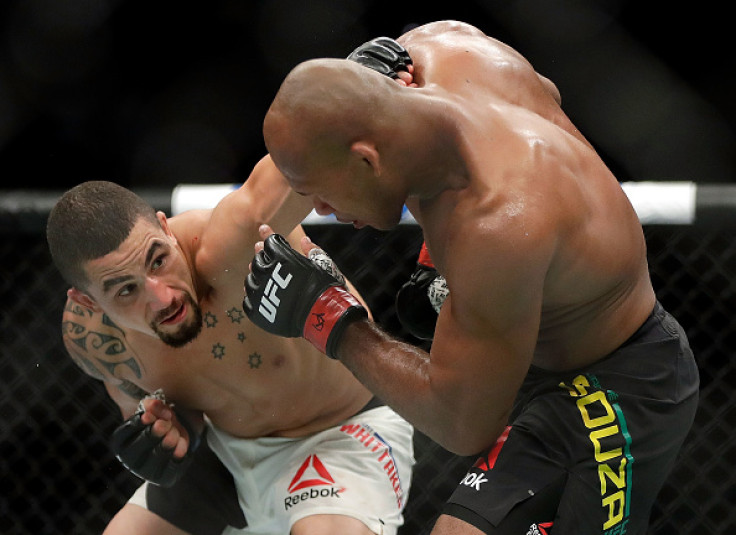 The praise for Whittaker stopped when Bisping found out that "The Reaper" was not too keen on questions about Luke Rockhold, who expressed an interest in fighting him at UFC 213 in July.
"Let me stop you right there. See, that's what you call a p***y." Bisping explained. "Sorry Robert Whittaker. Well done but what month are we now? You didn't take any damage, you're young, you're in your prime, you're on a big win streak."
"Rockhold calls you out, you're like 'Oh no'. He doesn't fancy that. He does not fancy that fight with Rockhold, simple as that. Otherwise why would he say 'it's too soon'? The fight is three months away!"