Robert Whittaker believes he is worthy of a shot at Michael Bisping's middleweight title after defeating Ronaldo "Jacare" Souza at UFC on Fox 24.
The buildup to the bout focused on "Jacare" amid speculation that he would go to Bellator, however, the Brazilian signed a new contract with the UFC a day before his fight with Whittaker.
Ranked number three in the middleweight division, the former Strikeforce champion was heavily expected to beat Whittaker, who is ranked sixth, and stake his claim for a shot at Bisping's title.
Things did not go as planned as it was the New Zealand-born Australian fighter who shocked the world, as he recovered from being taken down by Souza to defeat him via ground and pound TKO in the second round after a kick to the head wobbled the 37-year-old.
Remaining unbeaten since making the move up from welterweight to middleweight, Whittaker's win was his seventh in a row with only number one contender Yoel Romero having more consecutive wins in the division with eight.
The 26-year-old (18-4 record in MMA), who also earned a $50,000 (£39,800) Performance of the Night bonus, now targets UFC gold as he claims Bisping owes him a fight after their bout in November 2015 was called off.
"Right now, he's doing his own thing [facing GSP] and that's cool. But he owes me," Whittaker told News Corp Australia, as quoted on the Sydney Morning Herald. "I want a shot at that middleweight title and I think I deserve it."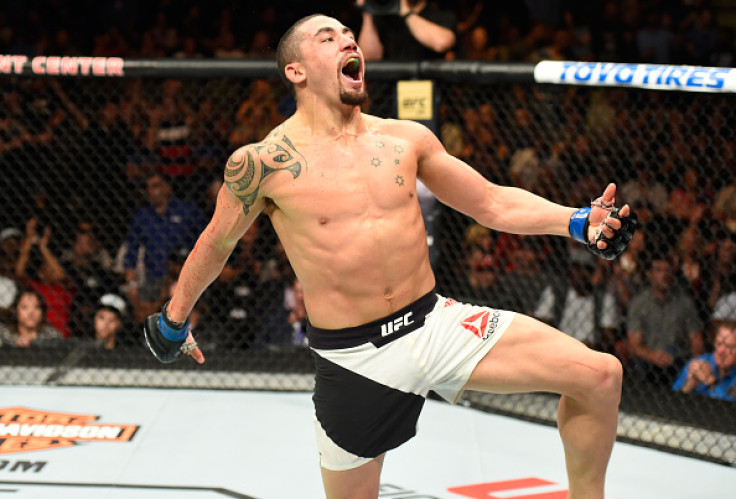 Described by Joe Rogan as the "dark horse" of the middleweight division, Whittaker was a huge betting underdog before his fight with Souza, but the Australian revealed he likes it that way and believes his win was a "real eye-opener".
"I like being the underdog," he added. "I enjoy it. But I knew eventually people would realize I'm legitimate."
"This win, it's a real eye-opener for not only the middleweight division but maybe a few other people on the MMA scene as well."
While "The Reaper" should not expect a bout with Bisping in the near future, number two ranked Luke Rockhold is reportedly interested in fighting him at UFC 213.
"That's a discussion [Luke Rockhold] I'll have with my corners and stuff, but I'm on my title run. I'm on my run and I want that belt. Bisping owes me a fight, but if he's tied up, or if he loses it, or whatever, I want that belt. Wherever it goes, I want it," he explained at the post-fight press conference.