Michael Buble's sister-in-law says nephew Noah, 3, is 'a warrior' as he battles liver cancer
The singer's family are rallying around, as Noah prepares to undergo 4 months of chemotherapy.
As Michael Buble and his wife Luisiana Lopilato come to terms with the devastating news that their three-year-old son Noah is battling liver cancer, the couple's family have reportedly been rallying around them.
Noah is reportedly due to undergo four months of chemotherapy after his shock diagnosis which left his family "broken in half."
Luisiana's sister Daniela, who last week confirmed that the youngster did not have leukaemia, told Gente magazine the toddler is largely unaware of his condition.
"He has the innocence of children and that is good. He doesn't understand too much what is happening," she explained.
Describing her nephew as "a warrior," she said that the family has faith that he will recover from the illness. "If God wanted it to be discovered that way, it's because he wants to save Noah. Cancer is a horrible illness but we have faith in Noah being able to overcome this.
"We know he will. The time to start a long and very difficult treatment has come but it's got to be done. They say children are normally strong to put up with chemotherapy and my nephew is a warrior.
"The love people are showing is helping us to see things with optimism and we have a lot of faith," she added.
Daniela is due to fly to LA in the next few days to be with her nephew, Luisana and their parents Eduardo and Betty.
Meanwhile, the Grammy award winning star's sister has been doing all she can to ensure her nephew gets the gift he wants for Christmas.
Brandee Buble revealed that she went everywhere in search of a Hatchimal toy for Noah. The large plastic eggs, which hatch to reveal trainable baby birds, sold out across the country after becoming one of the most sought out gifts of the year.
However, the children's book author said she was determined to get her nephew the gift he really wanted.
Sharing a photo of her purchase, she wrote: "Spent hours looking at every possible store that sold toys in Vancouver, got on waiting lists, only to find one on Craigslist, an hour away from where we live & twice the price...but we got Noah the Hatchimal that I promised him!
"Tia & Tio pulled through! And I think Mike may be more excited than he is! #family #westicktogether #crazytoyhype #imcomingwithpresents #hatchimals."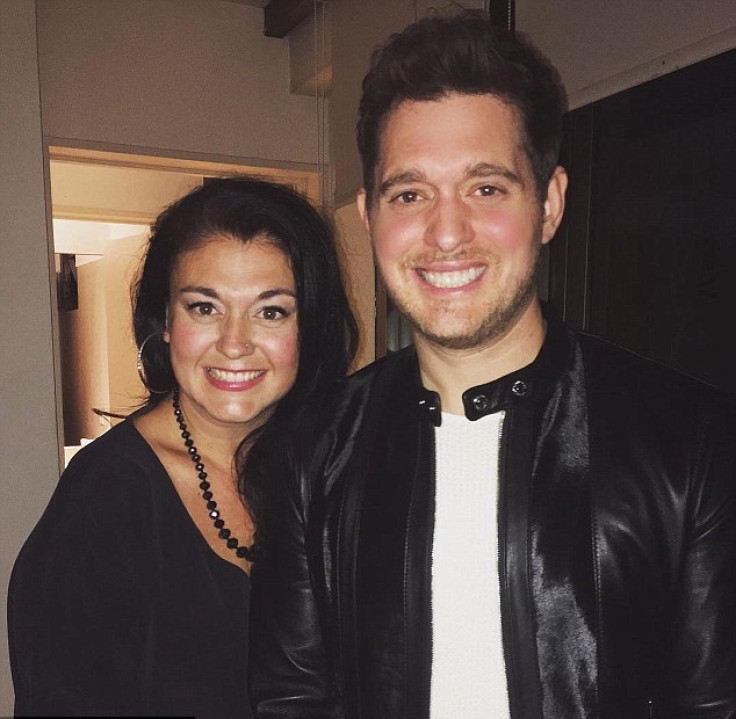 Doctors in Los Angeles confirmed Michael and Luisana's worst fears earlier this month (November 2016) after doing a liver biopsy following an initial examination at a clinic in Buenos Aires, the Mail Online reports.
In a statement released earlier this month, Michael revealed he and his wife of five years, Luisiana ,29, would be putting their careers 'on hold' to devote time to Noah's recovery.
Writing on Facebook, the couple confirmed the sad news that their son has cancer.
"We are devastated about the recent cancer diagnosis of our oldest son Noah who is currently undergoing treatment in the US. We have always been very vocal about the importance of family and the love we have for our children.
"Luisana and I have put our careers on hold in order to devote all our time and attention to helping Noah get well. We have a long journey in front of us and hope that with the support of family, friends and fans around the world, we will win this battle, God willing."
Michael's friend and Canadian musician David Foster told Entertainment Tonight Canada that the Lost singer is in a 'huge bubble'.
"He will not sing again until his child is well, I'm certain of it," Foster explained."Right now he's in a huge bubble, as you would expect. When this happens, everything shuts down around you. You go inside your little bubble and I don't think he's looking at social media.
"I'm sure he feels the love from millions of people."
© Copyright IBTimes 2023. All rights reserved.