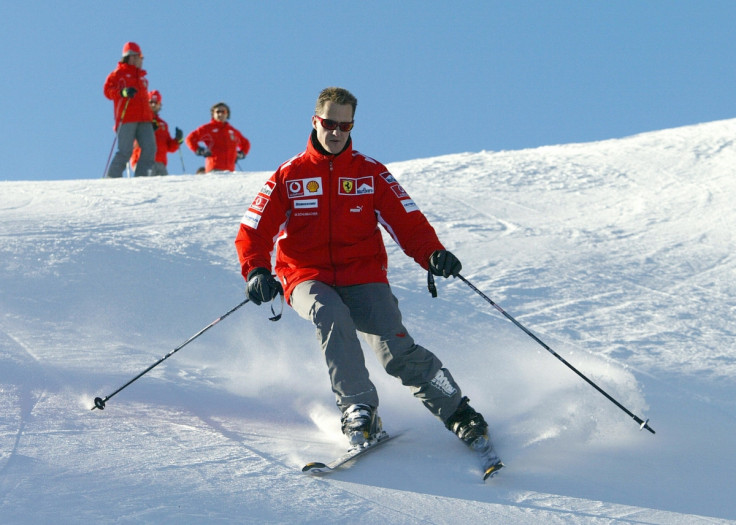 A German magazine has been ordered to pay racing legend Michael Schumacher £45,000 after falsely claiming that he could walk again.
In a December 2015 article, German celebrity magazine Bunte claimed the the F1 racing star, a former seven-times world champion who suffered an horrific skiing accident in 2013, had recovered from his injuries after "a Christmas miracle".
The magazine published a front page story quoting a "confidante" of the star who claimed that he had regained mobility. The source said Schumacher was able to move around in the purpose-built care suite erected at his home in Gland, Switzerland.
The article carried the headline: "It's more than a Christmas miracle –Michael Schumacher can walk again."
Schumacher's manager Sabine Kehm said at the time: "Unfortunately, we are forced by a recent press report to clarify that the assertion that Michael could move again is not true.
"Such speculation is irresponsible, because given the seriousness of his injuries, his privacy is very important for Michael. Unfortunately, they also give false hopes to many involved people."
For Schumacher, Felix Damm told a court in Hamburg: "He cannot walk. The report was false and damaged the right to privacy of Mr Schumacher and his family."
Hamburg's regional court found the article infringed Schumacher's privacy and ordered the magazine to pay compensation plus 65 per cent of his legal costs.
He had suffered horrific head injuries after hitting a rock while skiing at the French Alps resort of Mirabel with his wife Corinna and children Mick and Gina Maria.
After the accident, in December 2013, he was airlifted to hospital where he underwent two emergency brain surgeries. He was left in an induced coma for months.
Released from hospital in September 2014, he has since been recovering in a purpose-built medical suite at his Lake Geneva mansion where a team of 15 people look after him round the clock.