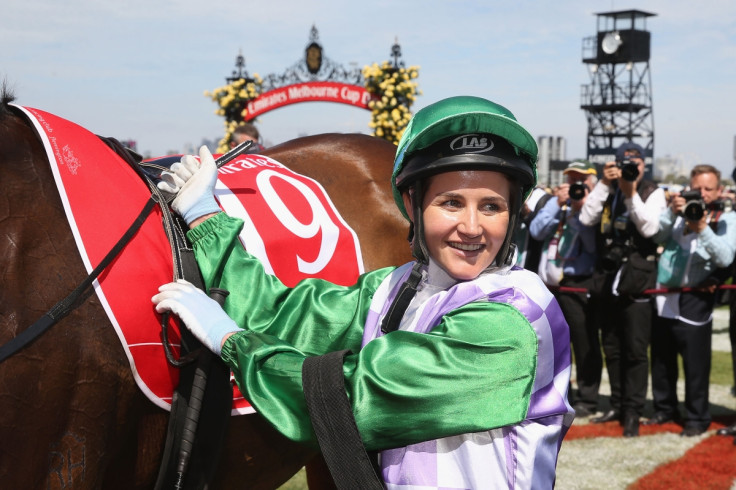 Michelle Payne has become the first female jockey to win the Melbourne Cup in its 155-year history after riding outsider Prince of Penzance to a historic victory. The 30-year-old was a 100/1 shot before the race, regarded as Australia's biggest, as just the fourth women to compete.
The New Zealand-born thoroughbred finished ahead of Max Dynamite, ridden by Frankie Dettori, and Criterion. Pre-race favourite Fame Game finished down in 13th.
Owner John Richards takes home A$3.6m (£1.7m; $2.6m) in prize money after prevailing in the richest two-mile handicap in the world. Coming from a family directly linked with racing, jockey Payne paid tribute to her upbringing which now sees her as the toast of Australia.
"Racing in is my blood," she said. "I am the youngest of ten kids and seven of my brothers and sisters were jockeys so right from when I can remember I wanted to be a jockey and I am going to be in the game forever.
Nor did Payne spare the riding crop when it came to the endemic sexism she had faced in horse racing.
"It's such a chauvinistic sport, I know some of the owners wanted to kick me off," said Payne, who has fought back from life-threatening race injuries.
"It is my passion, it's an amazing industry and you don't need all the money in the world to win the greatest race in the world. I am so glad I could do the job for female jockeys in particular. It's a very male-dominated sport and people think we [women] are not strong enough and all of the rest of it, but it's not all about strength.
"There is so much more involved, getting the horse into a rhythm, getting the horse to try for you. It's being patient and I'm so glad to win the Melbourne Cup and, hopefully, it will help female jockeys from now on to get more of a go. We don't get enough of a go."