Microsoft announces free streaming of Xbox One games to Windows 10 computers and tablets: How to live stream games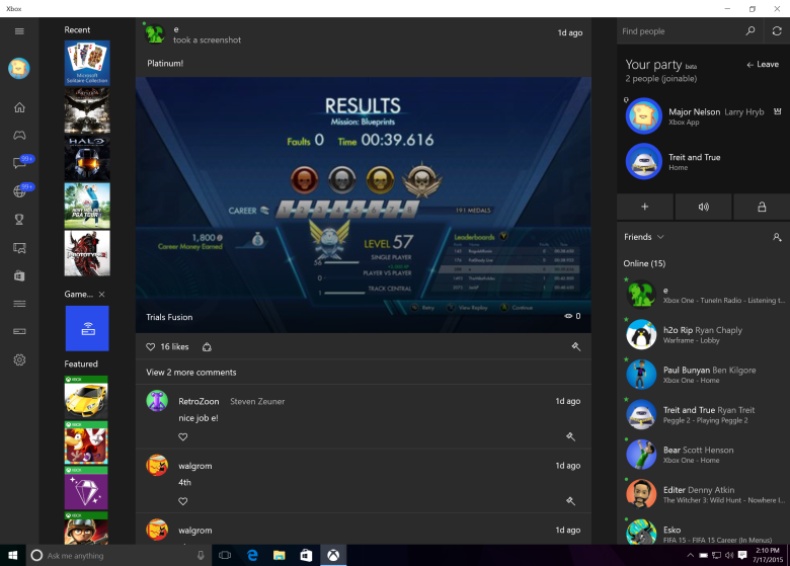 Technology giant Microsoft has enabled streaming of games for all Xbox One owners using a Windows 10 computer or tablet, the Redmond-based company has also made live streaming of Xbox One games to Windows 10 PCs free.
How to live stream Xbox One games to Windows 10 computers/tablets for free
To live stream games for free, Xbox One owners must navigate to Settings > Preferences > Allow game streaming to other devices on their consoles. Users should also have installed the most recent version of Xbox application within Windows 10 tablets and computers.
After changing the setting on their Xbox One and downloading the latest Xbox One app, users should tweak certain in-app options as follows:
Within the Xbox One application on Windows 10, choose Connect > +Add a device and select the respective Xbox One console.
After choosing the Xbox One gaming devices from the list of displayed options, a wired Xbox 360/Xbox One controller should be physically connected to the Windows 10 computer/tablet.
Then, navigate to Home > Recently Played to choose an Xbox One game, and select Play from console to begin live streaming of the Xbox game.
Along with announcing free live streaming of Xbox One game titles, Microsoft has also refreshed the official app for Windows, with newer features such as:
Party Chat: This enables users to start a group chat or game chat with Xbox friends across Xbox One and Xbox on Windows 10. Press '+' to invite friends, and simply click on friends to invite them to an online party.
Home: Enables easy access to Game streaming that provides quick launch of an Xbox One game from Recently Played. Users should also find an updated Featured Games section on the home screen below the recently played list. This lets users find out and install newer and popular games from Windows store.
Xbox Avatars: The "Take a photo" feature can be used to save a specific Avatar photo as users' pic during gaming. Users can select a post or a frame of animation, select a background, and select Picture size > gamepic and then click the camera icon, and select Save as gamerpic to make the new pic visible across Xbox on Windows 10 PCs and Xbox One.
My Games: The app will support automated discovery of Windows Store games and a large number of older non-Windows store PC games so they get added automatically to users' game collection within the Xbox app upon first launch. If a game is not automatically added, users can manually add it to a collection by selecting My games > Add a game from your PC.