Microsoft has introduced a new offer by which purchase of Lumia smartphones such as Lumia 930, 830 and 735 will fetch buyers a Fitbit Flex worth £79.99 for free.
This Fitbit Flex promotion offer is limited to the UK and Ireland. A number of retailers are running this offer with SIM-free Lumia smartphones, but not for on-contract deals with carrier networks.
High-street retailer, Carphone Warehouse is selling the SIM-free Lumia 930, 830 and 735 models at £419.99, £199.99 and £199.99 respectively with a free Fitbit Flex on each purchase. But keep in mind this offer is valid only till the end of March and applies only to the purchase of the Lumia smartphones mentioned above.
As the product page at Carphone Warehouse notes, "Get a Nokia Lumia 930 (830 and 735) before the end of March and Microsoft will give you a free Fitbit Flex. This advanced fitness tracker is the perfect gadget to get 2015 off to a healthy start. It tracks all your activities, calories burned and sleep and shows you how you're doing against your targets. You can even compare your stats to your friends and family for some competitive motivation.
To claim your FREE FitBit Flex, download the 'FitBit Gift' app from Windows Phone Store once you have your new Nokia Lumia 930 and follow the instructions in the app.
* £79.99 based on RRP
The Fitbit Flex offer applies only to purchases of the Nokia Lumia 735, 830 and 930 from participating retailers in the UK and RoI (Republic of Ireland) between 12/01/15 and 31/03/15. The offer is subject to availability. For full terms and conditions click here."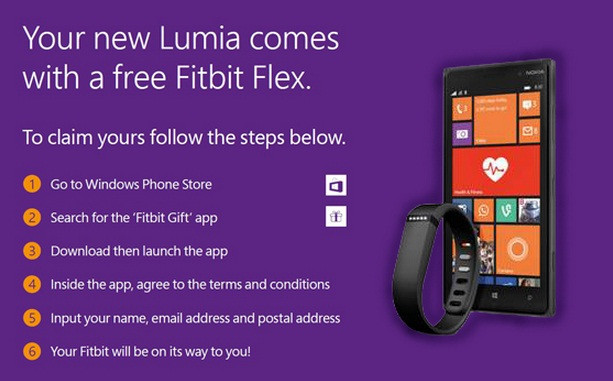 Clove UK has also announced that it would offer the free Fitbit Flex with all Lumia 930, 830 and 735 purchases made in the UK and Ireland until the end of March.
You can buy Lumia 930, 830 or 735 from Clove UK at £342, £225 and £190 and be eligible for the free Fitbit Flex. Other retailers such as Expansys and Unlocked Mobiles also have the offer.
"Microsoft have just launched a fantastic smartphone bundle offer on the Nokia Lumia 735, 830 and 930. Simply purchase one of the above handsets from us before 31st March and follow the instructions as per the link below and you will be sent your free Fitbit Flex worth £79.99," suggests the free Fitbit Flex offer on Unlocked Mobile.
Carphone Warehouse
Clove
Unlocked Mobiles
Expansys