Tech major Microsoft seems to have taken the unconventional route to mark its entry into the 'wearable technology' segment.
The Redmond-based company has literally made technology 'wear able' (pun intended) with a pair of trousers that comes with wireless phone charging capabilities.
Microsoft's unique 'tech pants' will go up for sale shortly. Online retailer Amazon is slated to accept pre-orders soon.
These phone charging pants are equipped with a wireless charging unit called Nokia DC-50 wireless charging plate (inductive charging) which is wound into the interiors of the trousers' pockets.
Well, it seems that Microsoft expects users to depend on divine intervention to protect themselves against a battery blow-up!
What was the company thinking when it collaborated with British fashion designer Adrian Sauvage some months ago on the project?
Microsoft's wireless charging trousers were showcased and unveiled at a fashion show held in London this week.
And that was a novelty. Until then people around the world were used to seeing Microsoft products being unveiled in tech shows and electronics fairs.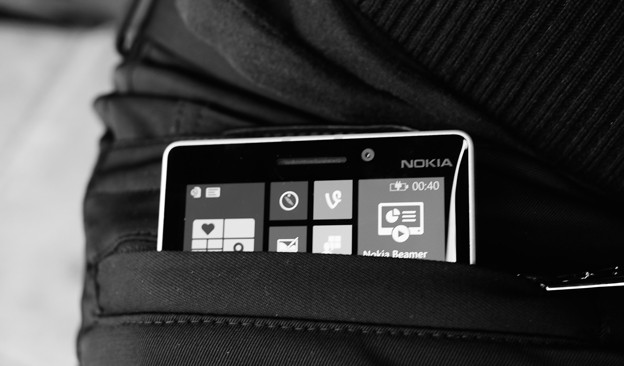 Microsoft terms its wireless charging trousers as "amazing," and states that its trousers' design complements that of Nokia Lumia 930. An easy way out for Microsoft would have been to simply create a portable (and stylish) power bank for the Lumia 930 rather than having to mess up with fashion. Poor strategy to attract Lumia users!
According to an ABC News report, Nokia DC-50 wireless charger will charge your smartphone when you just place it in the pocket of Microsoft's 'tech trousers', without you having to plug in.
Inductive charging technology establishes an electromagnetic field to transfer electric charges to smartphones, according to Microsoft.
Microsoft has made its wireless charger rechargeable, but then it requires you to plug in for charging via a USB cable.
Microsoft's wireless charging pants, a fashion disaster, would certainly attract people, albeit in museums showcasing 'scary technology products'.
The company could have posed intense competition to rivals Google and Apple in the "Smartwatch" segment, but with Microsoft having chosen the wireless charging trousers for its entry into the wearables sector, Google and Apple can see competition easing.
Microsoft please come out with something 'logical'!