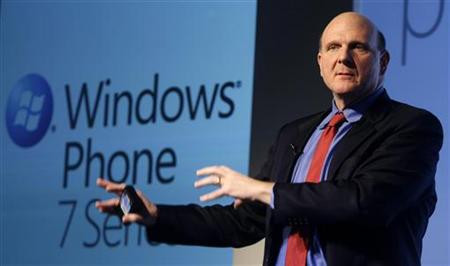 Microsoft has announced that it will hand-out free WP7 Phone's on its release later this year as it drives forward its plans for a smartphone market share.
The company which has boosted earnings out today through Windows 7 hopes that its seventh edition handset software can make a similar impact.
Phones are expected to start selling in a 'holiday season' atmosphere in what will be a significant moment for the company that has invested both its former Windows Mobile and its 'failed' Kin teams in the project.
Microsoft's Kin, a social networking device for 'heavy users', was disbanded after just one month on sale.
The Windows Phone 7 Series is a rejuvenated project featuring 'live' animation on hubs that change with news moving on the social networks, twitter feeds to which a phone is connected.
The phone is expected to retail from November, and employees will be able to access it for free, by paying the wireless and/or 3G network charges.
"While specific details are still being finalized, we have announced that a new Windows Phone 7 will be made available to every Microsoft employee as we launch in each market around the world. We're excited and remain on track to bring Windows Phone 7 to market this holiday." said a spokesman for Microsoft.
The move mirrors a similar attempt by Apple who gifted employees who'd been working at the company more than a year a free iPhone on its launch.