Microsoft Surface Mini Event Preview: Where to Watch and What to Expect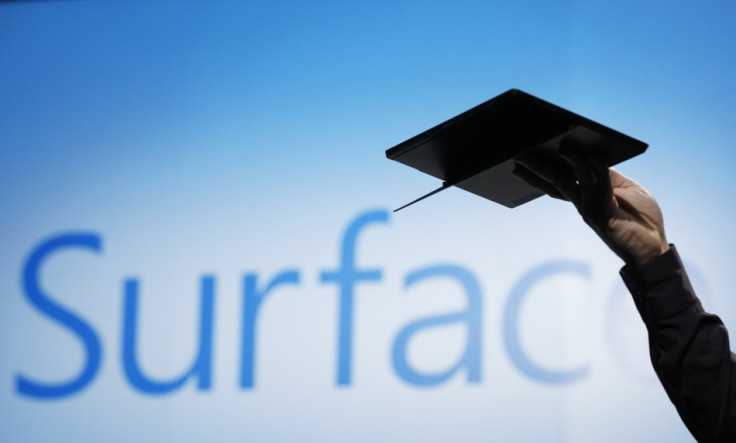 Microsoft is hosting a Surface event this week where its is widely expected to launch a smaller tablet to challenge the iPad mini, Google Nexus 7 and Amazon Kindle Fire.
There are numberous other rumours floating around the internet about what Microsoft might have up its sleeve at the event, including new full-sized Surface tablets and even a Surface laptop or smartphone.
We round up all the details about the event, starting with when and where you can watch it online:
---
Where and When?
---
Microsoft has invited a select number of journalists to a "small gathering" in New York City on Tuesday, 20 May at 11am local time.
For those of us not in the Big Apple, here's a lost of local times when the event will kick off:
New York City - 11am
San Francisco - 8am
London - 4pm
Amsterdam - 5pm
Johannesburg - 6pm
Bangkok - 11pm
Hong Kong - midnight
Soeul - 1am (Wednesday)
Sydney - 3am (Wednesday)
---
Where can I watch online?
---
Unlike Apple, Microsoft is typically very good at allowing people around the globe watch their product launches live - and this time is no different.
The Surface livestream will be available here on 20 May.
---
What will Microsoft announce?
---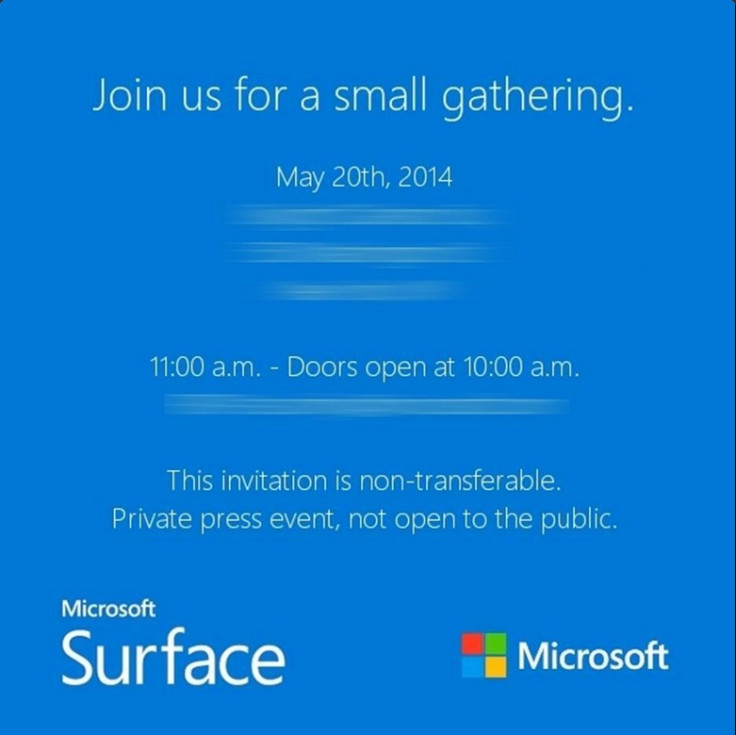 Twitter
While there is nothing guaranteed in this world except for death and taxes (according to Benjamin Franklin at least) it is a pretty safe bet that Microsoft will unveil a smaller version of the Surface tablet which is expected to be called the Surface Mini.
As well as the reference to "small" in the invitation's top line, there are multiple sources reporting details about the Surface Mini.
The tablet is set to have a screen size between 7in and 8in with a Full HD resolution and 4:3 aspect ratio, will be powered by an Qualcomm Snapdragon chip rather than the an Nvidia chip and will run Windows RT rather than a full version of Windows 8.1.
Many reports are also suggesting that Microsoft will bundle a high-quality digitiser pen with the Surface Mini to help it stand out from competition like Apple's iPad mini and Google's Nexus 7. We could see a big focus on OneNote and other note-taking apps during the presentation.
Other leaks suggest Microsoft will ditch the kickstand of the main Surface models and instead offer a number of covers which integrate a stand.
A report on Bloomberg earlier this month suggested that Microsoft would be revealed several new Surface models on 20 May - some powered by Intel chips.
This has led to speculation that rather than an update to the Surface Pro 2 (which is only seven months old remember) we could see a Pro version of the Surface Mini.
While this would likely appeal to business users on the move, the small screen would not play well with the desktop mode.
File this one in the unlikely category.
The internet went into a bit of a flap last week when Microsoft published a support article which made reference to a Windows 8.1 update that "adds support to the Surface Pro 3 camera."
Microsoft quickly changed the support page and said the reference had just been a typo, but along with reports of an Intel-based Surface being launched, it suggests we are going to get at least one new full-sized tablet on 20 May.
Intel could be ready to roll out a Surface using a power-efficient version of Intel's Haswell chips, which already power the Surface Pro 2.
With Intel's next-gen chips (codenamed Broadwell) being delayed until the end of the year, it could make sense for Microsoft to bring out an interim Surface Pro model, before launching one with the Broadwell chips early next year.
Then again launching an updated Surface Pro 3, less than eight months after the Pro 2 was launched seems unlikely.
Highly unlikely. The company has just finalised his acquisition of Nokia and it will be looking to leverage the Lumia brand in order to boost the market share of its Windows Phone operating system.
The company may make some mention of closer integration between its Surface hardware and newly acquired smartphone business, but don't expect to see a Surface smartphone this week.
What about a Microsoft-made laptop, a competitor for Apple's MacBook Air?
Again, this is unlikely, though it would be really interesting to see what the designers behind the beautifully-crafted Surface tablets could come up with if charged to create a laptop.
Intel's Ultrabook branding has helped Windows-based laptops challenge the MacBook Air in the ultraportable category, but they have not been able to match it yet - and Microsoft could be the company with the expertise to do so.
Again however, this is one of file in the unlikely category.
© Copyright IBTimes 2023. All rights reserved.