Microsoft has announced that its Surface Windows 8 tablet will cost from £399 when it goes on sale on 26 October, the same price as the new iPad, but with double the storage capacity.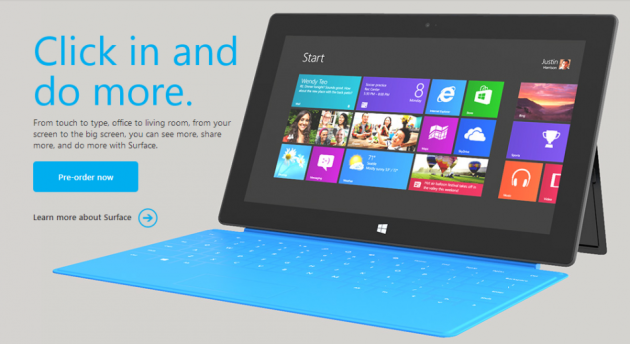 The cheapest Microsoft Surface will come with 32GB of storage - compared to 16GB in the cheapest iPad - and users will have to pay a further £80 if they want the Touch Cover included, while a 64GB model with the cover-cum-keyboard will cost $699.
Microsoft is listing the Surface tablet, which will finally see the computer giant directly compete against Apple in the tablet market, on its US online store, where it can now be pre-ordered for delivery on the 26 October launch date.
The company will be holding a launch event for Windows 8 and the touch-optimised Windows RT for the press next Friday, followed by a launch event for Windows Phone 8 three days later on 29 October.
CEO Steve Ballmer said recently that the "sweet spot" for a tablet is between $300 and $800, and with this Surface prices it would appear that he has come in on target with the $499 to $699 range.
Surface street art has already been spotted in a number of US cities over recent days as Microsoft's advertising campaign for the 10.6in tablet kicks off.
Earlier this week, Microsoft showed off its first TV advert for the Surface, below.
Pop-up stores selling the tablet will open at midnight on 26 October, although it is not yet clear what Microsoft's plans are for its UK launch that day.
Apple is widely expected to launch a 7.85in ipad mini later this month, and also update its full-size 9,.7in iPad, possibly to include the new Lightning connector port first seen on the iPhone 5.
We have contacted Microsoft to ask about UK pricing and will update this report when we hear back.
UPDATE: The Microsoft Surface can be pre-ordered online for a launch day delivery to Australia, Canada, China, France, Germany, Hong Kong, the UK and the US. MS Surface can be pre-ordered in the UK here.