Migrant crisis: Hundreds protest at Budapest station as Jobbik right-wingers stage rival demonstrations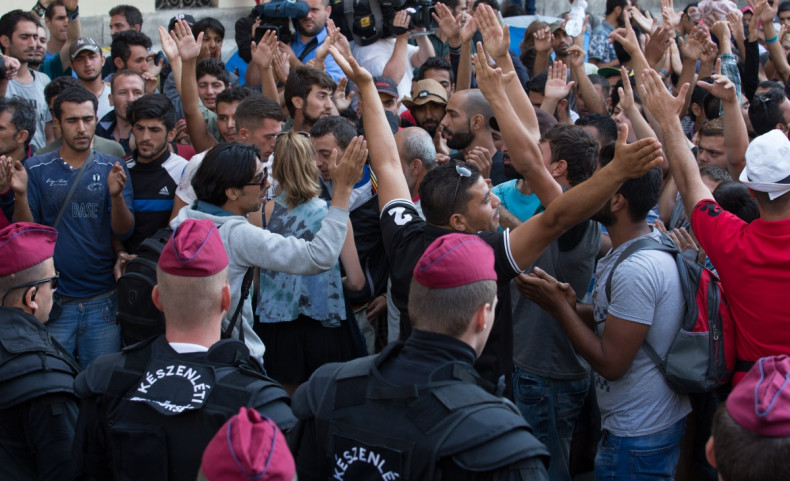 Activists from Hungary's far-right Jobbik party have staged protests in Budapest as for the second day refugees and migrants have demonstrated against being held in the capital and denied travel to Western Europe.
Authorities in the Hungarian capital have set up a makeshift camp to house hundreds of stranded migrants arriving from the Middle East and Asia. Members of Hungary's far-right Jobbik party were among the first to pitch a tent at the camp, flying the banner "Budapest is not a refugee camp," NBC reported.
Around 2,000 migrants camped overnight at east Budapest's Keleti station after they were denied access to trains by Hungarian authorities.
Chaotic scenes erupted in Budapest as hundreds of migrants and refugees took to railways to complete their journey from Hungary to Germany.
Budapest's main train station was temporarily evacuated and all rail traffic suspended as hundreds of asylum seekers tried to board carriages directed to Austria and then onwards to Bavaria.
Migrants reportedly chanted "Freedom! Freedom!" and "Germany! Germany!" as security forces moved to push them out of the Keleti station. The terminal reopened about an hour later with police deployed to keep the refugees out of the building.
The station had become a magnet for migrants as Hungarian authorities appeared to have loosened controls on train boarding, allowing on people without EU visas. Several migrants outside the building told an AP reporter they bought tickets after being told by authorities they would have been granted free passage.