Greece has seen a spike in the number of refugees and migrants arriving on its eastern islands by rubber dinghies via nearby Turkey. Aid agencies estimate about 2,000 made the sea crossing every day in August, mostly from Syria, Iraq and Afghanistan. These refugees and migrants have to wait on islands like Kos until they get their immigration papers, before heading to the Greek mainland and trying to make their way north through the Balkans.
Getty Images photographers Dan Kitwood and Win McNamee are documenting this epic journey. In this gallery, they record the first leg of the route.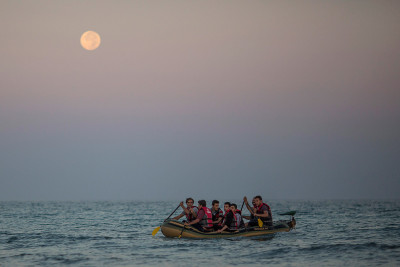 The refugees and migrants face a long wait on Kos as Greek authorities struggle to process the ever increasing numbers arriving by sea. Those migrants who can afford it stay in hotels on the island, but more sleep in tents, abandoned buildings or in the open.
As the Syrians are fleeing their country's civil war, they are treated as refugees. This gives them greater rights under international law than those from other countries, who are regarded as economic migrants. A passenger ferry has been brought to Kos to house and register Syrian refugees.
Those from other countries often stay in places such as the Captain Elias, an abandoned hotel on the outskirts of the island's main town. They sleep on worn-out mattresses laid side by side in the lobby or on cardboard boxes laid out on the terrace.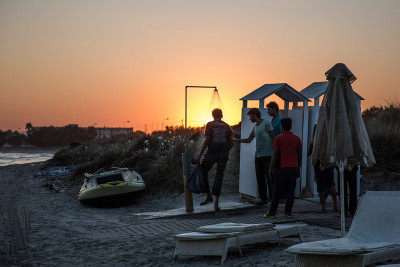 Syrian refugees and migrants who have received their papers are allowed to board a ferry to the mainland. The fare for each passenger is €50 (£37) but tickets are hard to come by. The ferries are chartered by the Greek government to ease conditions on the islands of Kos, Lesbos, Samos, Symi and Agathonisi, in the eastern Aegean.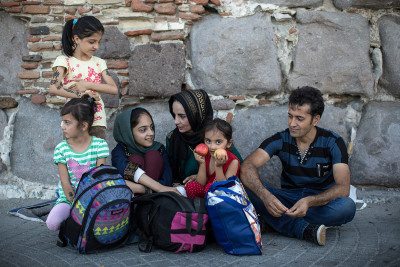 Buses wait on the quayside at the port of Piraeus to transfer the refugees and migrants to trains taking them to downtown Athens. From there, they typically headed northwards by train or bus to the city of Thessaloniki, hoping for passage into Macedonia.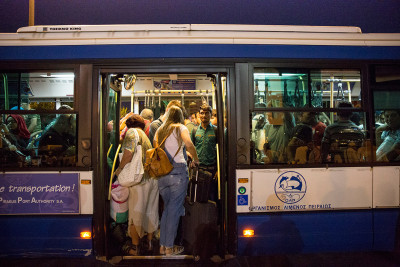 In their search for a better life, almost all of the migrants and refugees hope to reach the more affluent countries of northern and western Europe such as Germany and Sweden. The UN estimates up to 3,000 migrants are expected to cross into Macedonia every day in the coming months, most of them refugees fleeing war, particularly from Syria.
Getty Images photographers Kitwood and McNamee are currently in Macedonia, and intend to travel through Serbia and Hungary. IBTimesUK has now published a gallery detailing this next leg of the migrants' journey to western Europe.