The Royal Navy is sending a ship equipped with a team of Royal Commandoes to assist with the Nato mission in the Aegean Sea aimed at tackling people smugglers. The Royal Fleet Auxiliary ship, RFA Mounts Bay, a vessel equipped with a landing dock, is destined to join a recently deployed large-scale maritime operation between Greece and Turkey.
Nato say that the international fleet, called Nato Standing Maritime Group 2, is not tasked with rescuing migrants. Instead it will be tasked with surveillance and reconnaissance in an attempt to tackle human trafficking and illegal migration. The group will provide information to Greece, Turkey and the EU's border agency Frontex so that they can combat refugee boats.
The mission was launched in February as the humanitarian crisis in the often-dangerous waters deepened. According to the International Organisation for Migration, as of 1 March, 129,455 migrants had arrived in Europe by sea since the start of the year with 418 estimated to have died making the crossing.
The RFA Mounts Bay will come under of the control of the German Navy and led by the German Navy frigate Bonn. In total five ships from different bloc members including Canada, Greece and Turkey make up the mission.
According to Sky News the vessel is currently in Crete waiting for diplomatic clearance to begin and will be joined by a Wildcat helicopter, from 825 Naval Air Squadron, flown in from Oman. As she awaits diplomatic clearance she will sail into international waters and conduct airborne surveillance using the Wildcat.
The mission is set to operate between Turkey and the islands of Lesbos and Samos, where thousands of migrants attempt to cross the relatively short stretch of water. As part of a new policy the mission is planning to send migrants back to Turkey rather than to Greece, as the current EU maritime mission does.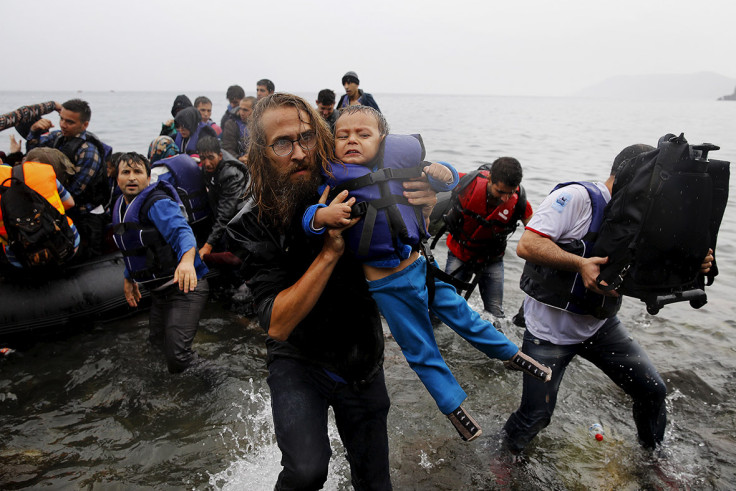 A few days ago the Russian news service RT reported that the Nato mission had to be put on hold after Turkey "denied entry" to the military bloc's warships. But Turkish officials rubbished the report saying that it was "fabricated" and "provocative".
People smugglers are known to set use various types of vessels, in various states of repair, to ferry desperate people from Turkey to Greece as migrants seek safe haven in the EU. Migrants often use Turkey as a transit country en route to northern Europe, with many coming from war-torn Syria, Iraq and Afghanistan or impoverished parts of Africa.
In Turkey and elsewhere, migrants have been charged huge sums by traffickers to help them cross from the mainland to the Greek islands. This week the organisers of one of those voyages that resulted in the death of three-year-old Alan Kurdi, was punished by Turkish officials.
A Turkish court sentenced two Syrians to four years in jail over Kurdi's death, whose photograph, showing his dead body lying facedown on a Turkish beach, shocked the word into action over the refugee crisis last September. The two men, Mufawaka Alabash and Asem Alfrhad, were convicted of people smuggling, but acquitted of causing death "through deliberate negligence".