The Greek authorities have sent troops and riot police to the island of Lesbos where tensions are rising between groups of migrants and locals.
This morning at least one refugee was beaten unconscious in clashes with police. In recent days, locals are alleged to have thrown a petrol bomb at refugees and fights have broken out between migrants from Syria and Afghanistan.
Thousands of migrants are stuck on Lesbos and other Greek islands as they await processing to enable them to be moved elsewhere within Europe. However an insistence that the incomers be divided into two groups – refugees form Syria and "economic migrants" from places like Afghanistan – has caused conflict. Economic migrants are having to wait longer for processing and face the prospect of being sent back.
Migrants are not allowed to travel on into mainland Europe until they have been processed in Lesbos, after their perilous journey from Turkey. All applications are being processed by two police officers at a shipping container in Mytilini's ferry terminal. This is creating a bottleneck with some migrants being stranded for weeks, sleeping rough or camping out in local parks, unable to check into hotels even if they have the cash to do so. The area is becoming strewn with rubbish and there are no lavatories, all of which is causing tension with locals.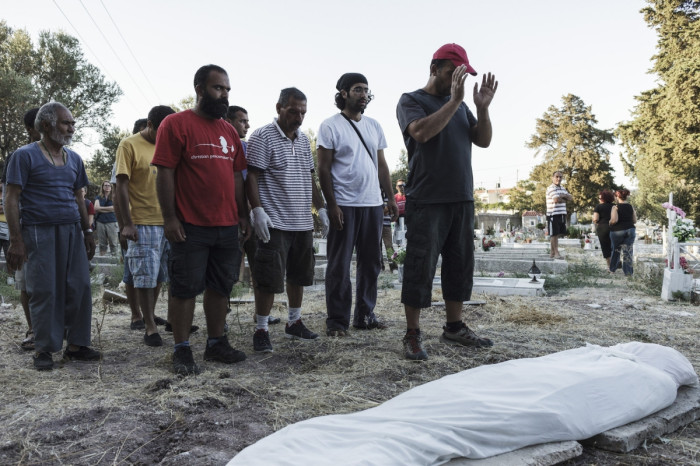 On Friday (4 September) two 17-year-old local youths were arrested after a Molotov cocktail was thrown at Syrians who were sleeping rough in Mytilini. One Syrian was slightly injured in the incident, according to state news agency ANA.
The island's UNHCR representative Alessandra Morelli told The Telegraph that more needed to be done – and the migrants needed to be taken to the mainland as soon as possible, where they could be processed on arrival at Piraeus. "We are calling today for an evacuation of the refugees on Lesbos, in order to relieve the pressure," he said.
Speaking to AFP as he visited the island deputy migration minister Ioannis Mouzalas defended the actions of the Greek authorities. He said they were doing everything they could to "relieve the island as quickly as possible of a large number of refugees, so that the flow can be brought back to a tolerable level."