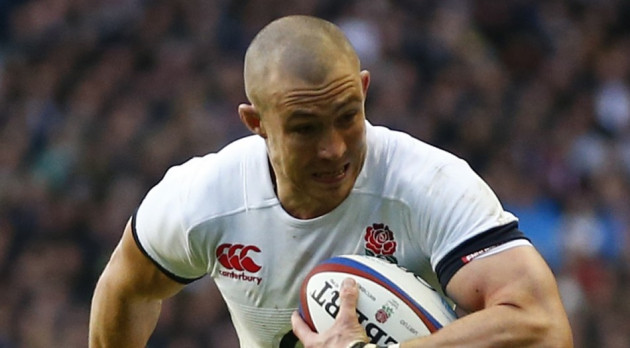 England full-back Mike Brown is refusing to take a likely starting place in next year's Six Nations championship for granted despite being the undisputed player of the autumn.
The Harlequins man is among four nominees for the QBE man of the series award along with Dylan Hartley, Courtney Lawes and Tom Wood but his performances upon his permanent return to No.15 have been sensational throughout November.
Brown was again outstanding as England fell short of beating world champions New Zealand at Twickenham on Saturday but despite the 28 year old's encouraging form amid pressure from the fit again Ben Foden and Alex Goode, he believes a starting spot in 2014 is not a given.
"We've got second and third choice players pushing really hard so for me it's just about improving my game the best I can," Brown said. "I've got to go back to the club and keep my consistency going because I know if I knock off for a second the likes of [Ben Foden] and Alex [Goode] could grasp it at any opportunity.
"We'll just focus on going back to our clubs and for me just trying to play well and get that 15 jersey back for the Six Nations and from there we'll look to see what we can do in the Six Nations."
England's last line of defence was often the first line of attack with Brown regularly breaking the line during the autumn while his kicking from hand has greatly improved.
But instead of continually being relied upon to run the ball out from the back, Brown has called for a dramatic improvement to England's attack from wide, which has been blunted in each of the matches against Australia, Argentina and the All Blacks.
"I think that is one thing that we'd like to work on, give the outside guys a bit more ball to work with," he added. "We've got some great runners, especially out wide. We'll look at those lessons and hopefully we can improve that for the Six Nations. That is one area I'm sure we can make better.
"We're striving to be the best and at the moment New Zealand are. We'll look at what they do well and not copy it but do it in our own way. It's just about working on those things on the training field and I'm sure it will come."
Attention firmly returns to domestic matters for two months before the Six Nations becomes the fulcrum of the rugby calendar in February with England seeking to avenge their defeat to Wales on this year's final weekend, which saw them relinquish the championship and the grand slam
After a promising autumn, Brown wants to add silverware to backup England's improvement.
"We're a squad that has set high standards, and we want to win every game against any team we play so of course we want to win the Six Nations so we'll go out to do that," stated Brown.
"We beat New Zealand last year and pushed them really close this year. Once the disappointment has gone away we'll focus on the Six Nations. We have belief that we go on and do things like win the Six Nations.
"We go into every game with belief and we feel that if we put our game on the pitch we can push any team."