Miley Cyrus has been spotted arriving in New York wearing her diamond engagement ring. The Wrecking Ball singer has been holed up in her new Malibu pad with fiancee Liam Hemsworth for the last month.
Beaming broadly, she flashed her diamond engagement ring which she received from the Hunger Games star a few years ago, when they first announced their engagement. Following their split, the rock was reportedly left sitting on a shelf for three years as they each went their separate ways.
Miley briefly dated Patrick Schwarzenegger, 22 and was seeing Stella Maxwell, 24, while Liam was rumoured to be dating his Independence Day: Resurgence co-star Maika Monroe, 22, in July. However rumours of a reconciliation went public, as Liam and Miley were seen enjoying The Falls Festival in Australia's Byron Bay over the new year, as the former couple rekindled their relationship. Rumors also surfaced that Cyrus and Hemsworth had married in a private wedding ceremony on a beach in Australia during the winter holidays.
UsWeekly confirmed they are indeed dating again as the magazine claimed they were spotted 'kissing and holding hands' at an 8 January Golden Globe party thrown by CAA at West Hollywood's SoHo House. According to the publication, 'they are in a passionate phase of reconnecting,'
While the marriage plans are back on for now, Miley's alleged fondness for marijuana appears to be a dealbreaker for the Hollywood actor. According to InTouch Weekly, her habit is driving Liam "crazy" and the movie star has issued her with an ultimatum: its him or the bong.
"They recently had a huge fight. Liam told Miley he wants her to quit pot," an insider told InTouch Weekly. "He can't believe how often she gets high. Every day Liam comes home and the entire house reeks of weed," the source continued. "He's so annoyed. Miley still smokes a ton of pot and it drives Liam crazy."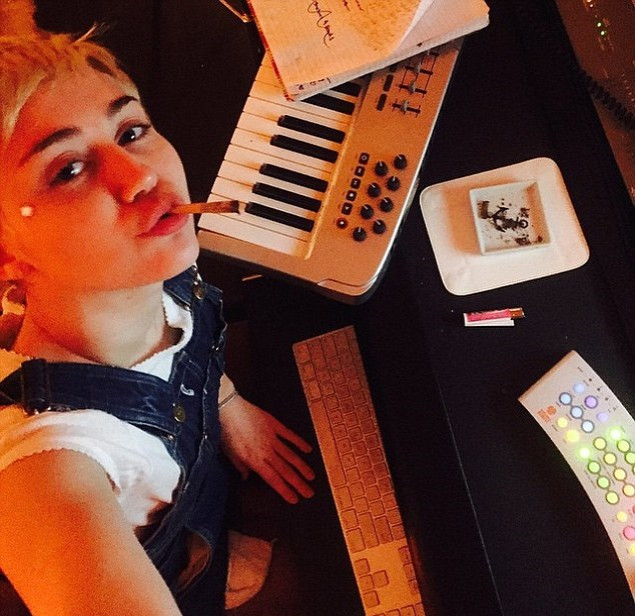 It was earlier reported by OK! Magazine that the 23-year-old singer was pregnant with Hemsworth's child, and that she was using her rumoured pregnancy to keep the 26-year-old star with her.
It was also claimed that Cyrus was forcing Hemsworth to sign a $176m pre-nuptial agreement to protect her wealth — worth about $160m — in case of a split. However, Cyrus and Hemsworth have not responded to any of the rumours.
Meanwhile, the former Disney star who is known for her shocking antics, stepped out for a shopping trip with her mother in a revealing fishnet top that left little to the imagination. The singer may well have to give up some of her bag girl ways if she wants to walk down the aisle with Liam.