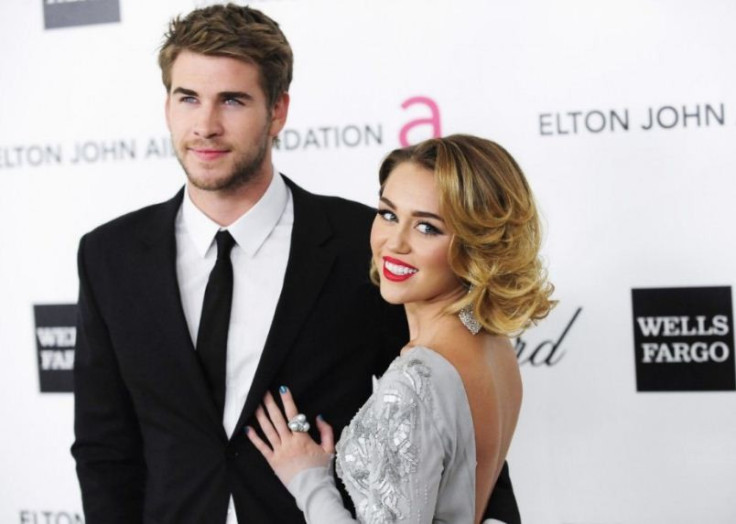 Miley Cyrus is keeping everyone guessing amid reports that she is planning to have a baby with her former fiancé Liam Hemsworth. The pair recently rekindled their romance, and the Wrecking Ball singer is said to be eager to start a family soon.
According to OK! a source reportedly told the magazine that in view of their previous split in 2013, Miley is insecure about her relationship, and is pushing the baby idea as part of a 'plan to keep her man.'
"[Miley Cyrus] would do anything to keep Liam by her side and thinks a baby would be the perfect way," the source told the magazine. Although the source confirmed Miley Cyrus is not currently pregnant, they added that "she is out of her mind over Liam right now".
Earlier Gossip Cop, claimed Miley Cyrus "has a plan to keep her man from calling it quits; she wants to have his baby. I heard her say, 'Liam needs to cut out the little boy s**t! We're getting married b***h, and he's gonna be my baby daddy ... I wouldn't put it past her to secretly get pregnant as a way to keep Liam tied to her," the source alleged.
According to Hollywood Gossip an insider commented: "He is so family-oriented, she knows that Liam would do whatever it took to give their baby a stable life. Miley is constantly texting him and frantically checking to see if he has gotten back to her. She says stuff like – 'I'm gonna change his life, he just doesn't know it yet.'"
Another insider added that Miley Cyrus and Hemsworth are "on the same page" as they make plans for their future together. While there has been no comment from Miley about the pregnancy rumours, in a cryptic Instagram post on Wednesday (24 February), she shared a photo that read: "All of this is temporary." She captioned the photo: "So stop worrying bout stupid s***."
The pair rekindled their romance during the 2015 Christmas holidays. An earlier report claimed they had even had a secret marriage, tying the knot on a beach in Australia. It was also recently reported that Cyrus was forcing Hemsworth to sign a $176m pre-nuptial agreement to protect her wealth — worth about $160m — in case the marriage doesn't work out.