Miley Cyrus and Liam Hemsworth 'hold hands' at Huntsman premiere in first public outing since reconciling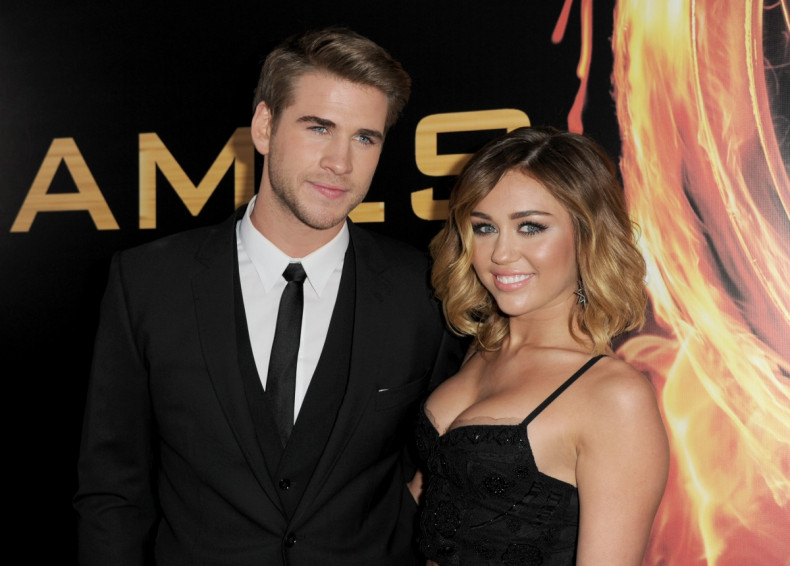 Miley Cyrus and Liam Hemsworth are not hiding their romance any longer. The engaged couple were seen at The Huntsman: Winter's War premiere together in Los Angeles on 11 April, marking their first outing at a public event since reconciling in December 2015.
Although they did not walk the red carpet together, Cyrus, 23, and Hemsworth, 26, were seen backstage at the premiere where they were supporting his older brother, Chris Hemsworth, who stars in the Huntsman sequel. A fan named Kayla Hockman gave live updates via Twitter after bumping into the couple and told her followers: "I just met Liam & Miley and I'm literally dying. #RIPME#riphannahmontana #dreamsdocometrue."
Along with individual pictures of the pair, Hockman added in a series of tweets: "For all you assuming I tell lies...#MileyCyrus #TheHuntsman#liamhemsworth. Miley and Liam are at this premiere together and I met them both I'm literalllyyyyyyyyyy dying. Miley and Liam are totes back together, FYI." Multiple reports claim the couple were seen holding hands at points throughout the evening.
The couple were seen enjoying a lunch with Hemsworth's family on 8 April, including his older brothers Liam and Luke, who brought along his wife, Samantha. Speaking about the group's meal at the Gracias Madre restaurant in West Hollywood, Chris, 32, coyly told ET Online: "We're just hanging out, mate. Just life, you know? We're not in the same country that often, you know? And so we all get together and hang out when we can."
Cyrus and Hemsworth have not attended a red carpet event as a couple since 2013 when they posed for photos at the premiere of the Australian star's film Paranoia. The pair first began dating in 2009 after meeting on the set of their movie The Last Song and got engaged in 2012 but their relationship ended in September 2013. Rumours of a reconciliation were rife in January 2016 after the Wrecking Ball singer was seen spending New Year's Eve with the actor and sources claimed their engagement was back on.
Although speculation suggested the engagement was off once again, Cyrus was seen wearing her engagement ring at the New York Knicks game, which she attended with her older sister Brandi in March.