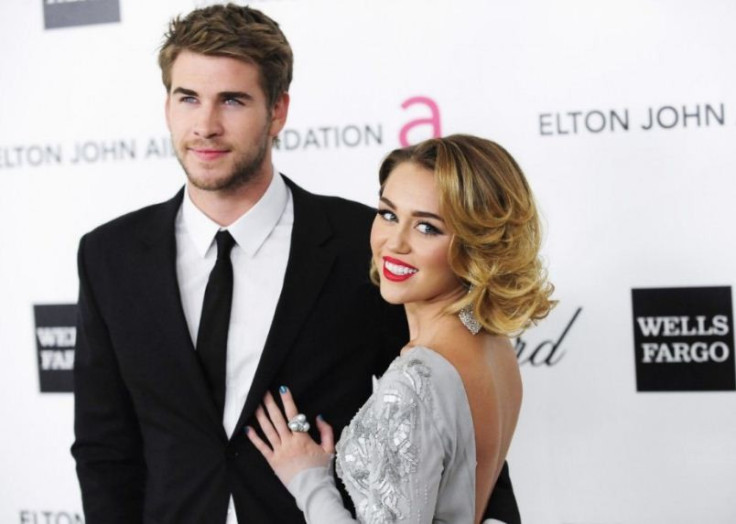 Pop star Miley Cyrus and boyfriend Liam Hemsworth were first rumoured to be tying the knot in a beach ceremony this past summer. Then there were reports suggesting that the two were planning a New Year's Eve nuptial. And recently, Miley's younger sister Noah revealed that the couple were not planning anything "right now".
However, a recent gossip report claims otherwise. "The wedding isn't off, Miley just wants to keep it totally under wraps," a source told HollywoodLife shedding light on the situation.
"She's usually really open but this is one thing she's being secretive about, she doesn't want any of the details getting out," the source told the website adding, "She's sworn her family to secrecy, they've all made a pact not to say anything to help her protect their privacy."
This news follows the Wrecking Ball hitmaker's 16-year-old sister disclosing some private information about Miley's anticipated marriage to The Hunger Games actor in a recent interview. "There's not any planning [going on] right now," Noah told Life and Style magazine further fuelling speculation about the ceremony.
Although the teenager ended all marriage talks about Miley, she opined that if and when the big day happens, the 24-year-old would make a "pretty chill" bride. Noah also gushed about Hemsworth, who seems to be as good as a "big brother" to the Make Me (Cry) singer.
"I love Liam," she shared and added, "He's been in the family for a really long time, so he's like a big brother to me."
Cyrus and Hemsworth started seeing each other after meeting on the set of the film The Last Song in 2009. Following a brief split in 2013, the couple reunited in late 2015 and seem to be going strong as they make public appearances together and gush about each other on chat shows.
While speaking on The Ellen DeGeneres Show, the pop star made an adorable confession about her engagement ring. "It's very weird because this is, like, real jewellery and most of my jewellery is made out of like gummy bears and cotton candy and they don't look that good together because they kind of mix up. So sometimes I replace it with an actual unicorn or a Looney Tune. And [Liam's] like, 'What's going on?' And I'm like, 'Well, this isn't my aesthetic, but I'll wear it 'cause you love me'," she said.