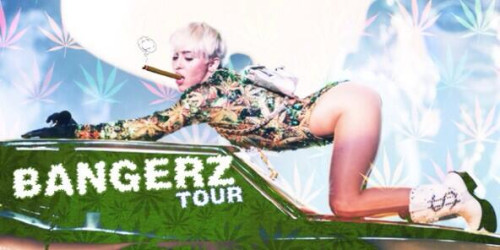 Miley Cyrus kicked off her Bangerz Tour in her raciest best. The 21-year-old was in her elements as she delivered a spectacle with outrageous outfits, a gigantic hot-dog and a Bill Clinton impersonator.
Cyrus's X-rated moves were clearly the highlights of the show with her racy song-and-dance with the Clinton impersonator being the most shocking. The singer grooved with the masked background dancer by getting down on her knee and crouching low while he danced in front of her, reports the Daily Mail.
Cyrus later fashioned an outfit that can easily be termed as one of her naughtiest to date - a marijuana-leaf-bedazzled, thonged onesie with a plunging neckline.
As if wearing that wasn't bold enough, she took it a step ahead by bending over and giving everyone a look at her bare derrière. She then proceeded to gyrate all over a car that was wheeled out on stage, according to Hollywood Life.
Talking about the tour, Miley Cyrus told MTV in an earlier interview about how she perceives the show as something that she feels is "educational for kids" and that people view it with open minds.
"It's a lot how a play would be and we've got kind of these intermissions to keep people really involved and what I wanted is for people to see a show that they would least expect," she added.
"I want my fans to walk away knowing more about the art that inspires me. Between the VMAS and unplugged, there's a hybrid that really makes it about the music. It is fun for people to walk out and be like 'Oh my God did she just do that?' but there's so much that I do love about shock value, but then I really want there to be that core about the music."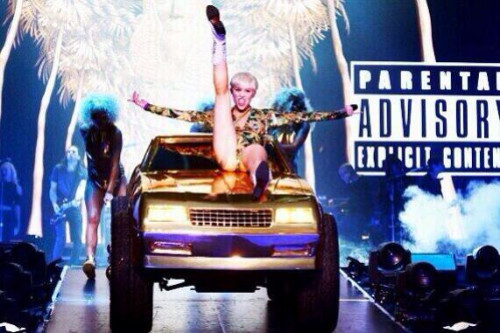 Click here to view more images of Miley Cyrus at Bangerz Tour opener