Million Mask March: Anarchists plotting to kidnap, strip officers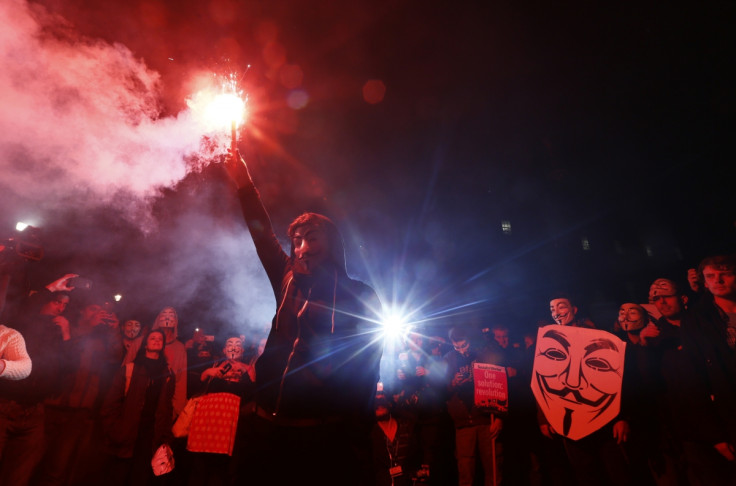 Some anarchists who attended the Million Man Mask March suggested abducting senior police officers and posting images of them naked online. Activists allegedly circulated a document online urging protesters to form "snatch squads" targeting high-ranking officers, strip them naked and cover them in paint or dye and post images of them online. The actions were meant to humiliate and demoralise police ranks.
The Occupiers Tactical Manual was posted online before the march on Thursday which saw hundreds of anti-capitalist protesters march through the streets near Buckingham Palace, wearing Guy Fawkes masks. Parts of the demonstration became violent with some activists burning police vehicles, and injuring four police officers and shooting fireworks at a police horse. The horse, named Embassy, was blinded by the attack, according to the police.
The document, which allegedly includes a step-by-step guide to kidnapping police officers, has raised fears that anarchists could be launching a protracted campaign against the police. The manual reportedly says that officers should be: "1) Stripped of all clothing; 2) Painted with colourful body paint/dye that won't come off for months; 3) Pictures/videos taken; 4) Then these pictures/videos posted on social media. This will cause horrible embarrassment and demoralising effect on the police lines."
The Occupiers Tactical Manual was distributed on social media, through the website ukanonymousevents.com. However, the website has since been taken down, although links to it are still available on social media posts.
The news comes as nearly all the protesters that were arrested during the march in central London have been bailed without charge. There were 50 people that were arrested during the protest, but all but two have now been released.
The police have charged one person with assaulting a police officer and possessing a class B drug, and the other cautioned for police assault, according to the BBC.
The Million Mask March is an annual protest against capitalism usually held on Guy Fawkes Day, on November 5. The march is organised by hacktivist group Anonymous which seeks an end to the capitalist system across the globe. In the UK, the group has called for an end to austerity measures and inequality brought on by government policies.
© Copyright IBTimes 2023. All rights reserved.