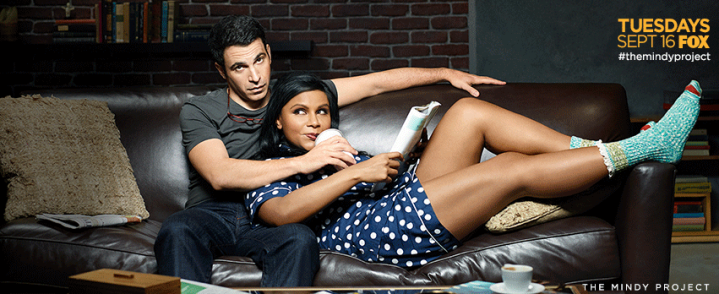 The Mindy Project is back with its third season and Mindy Lahiri (Mindy Kaling) and Danny Castellano (Chris Messina) are an official couple. Fans are set to see the sexual chemistry between them, executive producer Matt Warburton has teased.
"This is probably our dirtiest season," said Warburton, who admitted even he is "amazed at how sexual things are going to get."
According to reports, the couple's kinky mischief begins in the premiere episode, where Warburton promises a treat for those who enjoyed Dr C's Secret Santa gift last year.
"Fans of this sort of big, grand-gesture side of Danny will really enjoy it." Warburton told Tvline.
But their relationship will not be a smooth ride. "To the extent that the third wheel used to be some other guy for Mindy, now it's people like Annette Castellano", he explained - aka Danny's pushy mother played by Cheers' Rhea Perlman.
In other Shulman & Associates news, Jeremy and Peter will be involved in a love triangle and Morgan and Tamra will have "a very, very difficult year," the producer added.
"There's going to be an enormous amount of love warfare at work this year", he said. Warburton also hinted at a scene in which Danny must spend time in an elevator with two "fan-favourite exes of Mindy's."
He added, "If fans got to pick two, it might be these two."
The Mindy Project Season 3 will also welcome a guest star, Grey's Anatomy creator Shonda Rhimes.
"She's a beer pong expert," revealed co-star Beth Grant. "She is the reigning beer pong champion at Dartmouth."
Click here to watch The Mindy Project Season 3 premiere episode online, and watch a sneak-peek of the episode below.