Minecraft creator Markus 'Notch' Persson, who founded the game developer Mojang, is at the center of a social media storm after sending an aggressive, expletive-laden tweet addressing the trending subject of "#HeterosexualPrideDay".
In a Twitter post on Thursday 29 June, which quickly spread beyond Notch's 3.8 million followers, the Beverly Hills-dwelling billionaire wrote: "If you're against the concept of #HeterosexualPrideDay, you're a complete f*****g c**t and deserve to be shot."
Notch followed the vile outburst with two replies where he noted that said shootings should be performed "by a photographer" and "with a gun".
Persson eventually deleted the initial tweet, however Twitter users were quick to take screenshots in order to preserve the hate-fueled rant for posterity.
Understandably, reactions to the tweet came in droves, with most deriding Minecraft's former lead designer for his comments.
"Nobody is against it because it isn't a thing... Hetero's have pride every single day & face no discrimination for their sexual preferences," wrote one user. Another argued that "Straight Pride is literally the other 364 days of the year."
Some of the more vocal critics of Notch's statements came from members of the game development community, with many distancing the family-friendly Minecraft from its frequently controversial creator.
X-Com 2 designer Jake Solomon said in a tweet: "Notch is a really gross human being. Minecraft, however, is great. Choose optimism, choose love, choose respect. I promise you, it will win."
Meanwhile, independent games programmer Sean Oxspring tweeted: "At this point I think any devs that talk to or engage with Notch need to rethink their choices. He's absolute scum."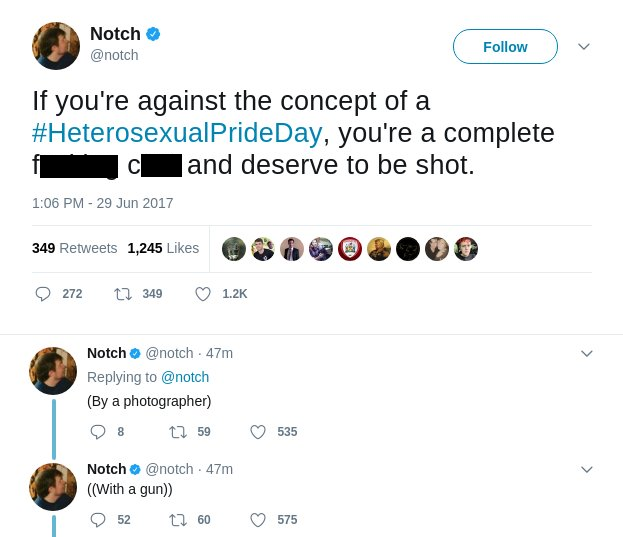 Several Twitter users also pointed out that Notch's combative social media salvo directly contravenes Twitter's policy on threatening content. Twitter's terms of use includes a paragraph addressing direct or indirect "violent threats".
"You may not make threats of violence or promote violence, including threatening or promoting terrorism," read the guidelines. "Failure to do so may result in the temporary locking and/or permanent suspension of account(s)."
While "Heterosexual Pride Day" ranked among Twitter's top trends for a short time yesterday, the majority of responses were highly critical in nature. The term has been described as a response to the internationally recognised Gay Pride celebrations, although many see it as a way of promoting homophobia and anti-LBGT views.
"Notchy don't learn"
Notch, who frequently attacks so-called "social justice warriors" with expletive-ridden, right wing-leaning tirades, later clarified that his original tweet was addressing those "reinforcing the illusion there is a divide".
"Seriously, you morons don't see how segregation and punching upwards will accomplish nothing," he said, before following up with a tweet that if you squint enough, could vaguely be interpreted as an apology.
"Thanks for letting me know when im [sic] a c**t, but don't get your hopes up I'll learn from my mistakes. Notchy don't learn."
Notch left Mojang following Microsoft's takeover in 2014, having earned approximately $1.75 billion (£1.1bn) from his 70% stake in the company he helped start.
Minecraft has since gone from strength to strength, maintaining its status as a global phenomenon that kicked-off with its debut on PC in 2011. In February, Mojang announced that the Lego-like world-building game had sold a whopping 122 million copies across PC, console and mobile platforms, making it the second-highest selling video game of all time – behind Tetris.