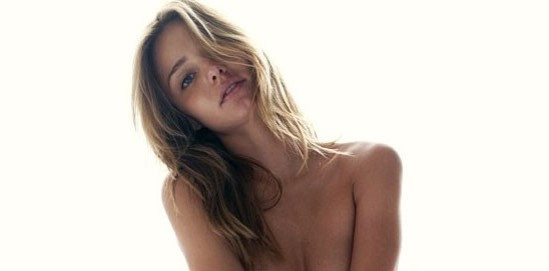 Australian supermodel Miranda Kerr is seen completely topless in a photo posted by celebrity photographer Chris Colls on his Instagram account.
In the shot, the 30-year-old is seen without make-up, draped in a sheet and a thin back bar covering her privates. The image was uploaded by Colls on 21 October, around the same time Kerr and her husband of three years, Orlando Bloom announced their split.
The Pirates of the Caribbean star and Kerr shocked everyone when they said they have split after six years of marriage.
"Life sometimes doesn't work out exactly as we plan or hope for," Bloom recently told Katie Couric, during an appearance on Katie.
"We love each other. We're a family. We're going to be in each other's lives for the rest of our lives," he added, "There's no question that for the sake of our son and everything else, we're going to support one another and love each other as parents to Flynn."
After the news broke out, the couple were seen together in Central Park in New York, as they took their two-year old son for a walk.
There were reports that the former Victoria's Secret Angel's closeness with Canadian pop idol Justin Bieber, at the annual Victoria's Secret fashion show in November 2012, was reportedly one of the reasons why her marriage to Bloom became strained.
"Orlando heard that there had been some flirting going on and he wasn't exactly thrilled about it," a source told Sunday People. "Miranda had always claimed that she was a fan of Justin's music. She has taught her son how to say Bieber fever but it is supposed to have caused an issue."