Miss Universe 2013 National Gift Auction: Miss Philippines Ariella Arida Showed off Pearl of the Orient Sea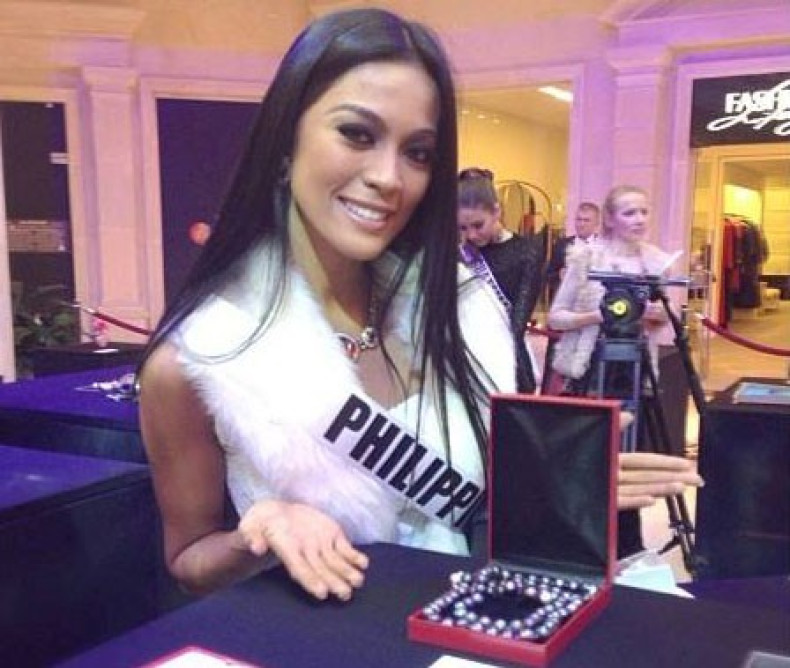 Miss Universe Philippines 2013 Ariella Arida revealed her national gift for the auction event on Instagram.
In the image, the Filipino beauty is seen showing off a pearl neck piece.
"Presenting to you my national gift from the Pearl of the Orient Sea! One of the biggest pearls was found in the Philippines #MissUniverse #forthephilippines," she captioned the picture.
The National Gift Auction will take place on 30 October at Crocus City Hall in Moscow, Russia.
Last year, 89 contestants took part in the National Gift Auction at Opportunity Village in Las Vegas. The proceeds went to Best Buddies International, a nonprofit organisation, founded in 1989 by Anthony Kennedy Shriver, that aims to create opportunities for people with Intellectual and Developmental Disabilities (IDD).
The Philippines candidate, who is one of the hot favourites to win the crown, also got herself into a controversy.
During an interview on the ABS-CBN News Channel's (ANC) Headstart, the 24-year-old was asked by show host Karen Davila to respond to comments about her communication skills in English.
"Latinas cannot even speak a sentence, right? I mean, a complete sentence in English... You know, I think, it's the Filipinos who are very critical about this," she said.
Arida took to her Twitter account to apologise for her statement about Latinas: "OM sorry. I didn't mean to offend anyone from my last interview. I hope you guys can understand what I'm trying to say."