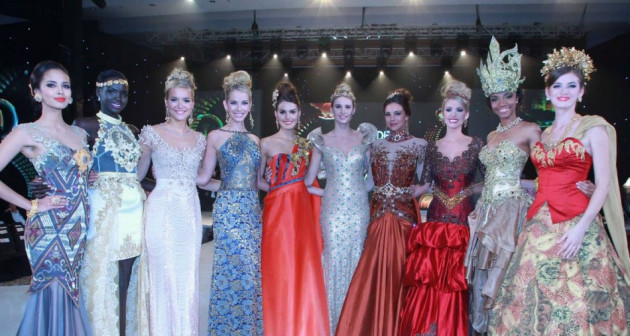 The 63rd annual Miss World pageant final will take place on 28 September in Bali, Indonesia.
A total of 130 contestants will parade in the finale of the three-week event, which will be broadcast to more than 180 countries.
The ceremony will begin at 7.30pm local time (1.30pm BST, 29 September) can be viewed live online on the official website of Miss World 2013. In the UK, the ceremony will air live on E! Entertainment. (Click here to take a look at the full list of channels airing the event.) At the end of the show, the winner will be crowned Miss World 2013 by the reigning Miss World 2012, Wenxia Yu of China.
For live updates on the show, keep an eye on the Facebook page. Twitter updates can be followed on @MissWorldLtd. Viewers can also share their best moments with #mw2013.
In other pageant news, Miss England Kirsty Heslewood is one of the ten finalists of the Top Model contest who have been announced recently.
Kamal Ibrahim, who is one of the host of the Miss World 2013 final, revealed that the Talent Final was his favourite moment.
"The show was simply amazing, it was great for me also to be up there on stage, and then we all went for dinner with the contestants at an amazing restaurant in Kuta. Great food, sitting by the pool, amazing music, and some of the girls even got up to sing! The perfect end to a great day," he said.
The Miss World contest is one of the oldest international beauty pageants around and was first created in the UK in 1951 by Eric Morley. The original contest was introduced as part of the Festival of Britain celebrations. Tradition, therefore, dictates that the winner spends the winning year in London and travels to represent the Miss World Organisation (MWO) and it causes.