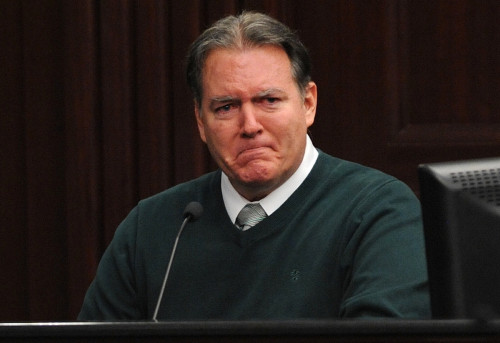 The trial of a middle-aged white man who shot dead an unarmed black teenager in an argument over "thug music" has ended in a mistrial.
Michael Dunn, 47, still faces life in jail after being found guilty of three counts of second degree attempted murder and one of firing a deadly weapon, after he became involved in an argument with a group of teenagers, and fired two rounds into their vehicle.
In a case that has drawn comparison with that of George Zimmerman, acquitted of the murder of Travyon Martin seven months ago, the jury failed to reach a verdict on the most serious charge: the first degree murder of Jordan Davis, 17.
Friends of Davis's parents said they were devastated that Dunn had not been found guilty of any offence relating to the death of their son.
His mother, Lucia McBath, said: "It's sad for Mr Dunn that he will live the rest of his life with that sense of torment, and I will pray for him, and I've asked my family to pray for him."
Other have declared the result an injustice that exposes the US's racial fault lines and the absurdity of Florida's gun laws.
Sybrina Fulton and Tracy Martin, Trayvon's parents, said in a statement: "The killing of 17-year-old Jordan Davis is yet another reminder that in Florida, racial profiling and stereotypes may serve as the basis for imaginary fear and the shooting and killing of young teenagers.
"No matter the verdict, the fact that Ron and Lucia will never see their son again will not change; we know that pain all too well. We walk with Jordan in defining his legacy to reflect our hopes by advancing love and tolerance in his memory, and continuing the fight against unjust gun laws."
How events unfolded
The court heard that in November, 2012, Dunn declared to his partner Rhonda Rouer: "I hate that thug music" when the vehicle with four teenagers pulled up beside them playing loud rap in Jacksonville, Florida.
"My rear view mirror was shaking, my ear drums were vibrating," Dunn told the court. "This was ridiculously loud music."
He then became involved in an altercation with the teenagers, and said that when he saw what he thought was a gun barrel in the wing mirror of the SUV, fired at the teenagers and fired a second round as they drove away.
Under Florida's controversial "stand your ground" law, a person is permitted to use lethal force if they believe their life is at risk. The law was also cited by Zimmerman's defence team in the Martin case.
Davis was unarmed and no gun was found in his SUV.
Dunn and Rouer afterwards drove to a hotel, ordered a pizza and slept the night. Dunn was arrested the next day after driving 175 miles home. His wife testified that on the night after the shooting, he had not mentioned seeing a gun.
Since the verdict, it has emerged that a former neighbour of Dunn testified that his ex-wife told him he was a racist and violent bully.
In a letter from prison to his daughter, Rebecca, he said that the jail in Jacksonville was "full of blacks", and suggested if more people "arm themselves and kill these **** idiots…they might take a hint and change behaviour."
Prosecutors have yet to decide whether to press for a retrial on the first degree murder charge.