Model Abbey Clancy goes braless and knickerless in see-through dress in racy photos
Clancy is expecting her third child with Stoke City footballer Peter Crouch.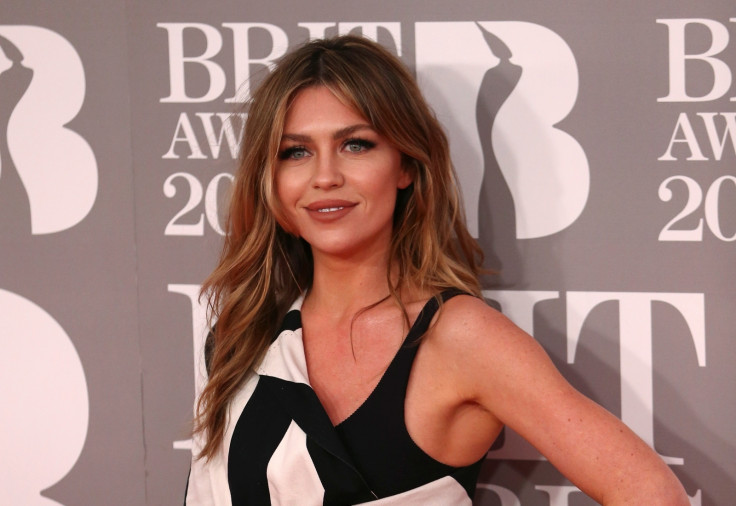 Abbey Clancy, who has never shied away from flaunting her figure, has now left little to the imagination with her latest photoshoot for Britain's Next Top Model.
Wearing a see-through dress, the model is seen sans bra and knickers while posing on top of a drawer in a flooded house with turquoise-coloured walls behind her. The TV star barely manages to cover her modesty with a few scattered jewels and flowers stitched on to the dress shielding her assets.
Another photo shows the Stoke City footballer Peter Crouch's wife lying on her hips with her arms supporting her slender frame on the drawer. She ditches her see-through dress for a golden sheer gown, which she pairs with high heels.
Letting her long luscious blonde locks loose for the photoshoot, the 31-year-old is next seen posing in between two men. One of the men seems to be completely naked as he is covering his crotch area with a sheet of cloth, while the other is posing with a camera in his right hand, wearing a funky outfit while seated on top a ladder.
Clancy is expecting her third child with Crouch. She confirmed her pregnancy in June.
She recently admitted that her craving has been uncontrollable since getting pregnant.
"It has to be Greggs – two sausage rolls and a cheese pasty. It's the baby that wants it, not me. I went for my ultrasound recently and they found crumbs on my belly!" she said.
Clancy also revealed that her husband wasn't too keen on having more babies after welcoming daughters Sophia, six, and two-year-old Liberty.
"The second one doesn't sleep at all. She's up every hour so Pete's like: 'No more babies just yet.' But when he's being given green eye shadow and having his nails painted pink and his hair put in bobbles by Sophia, I think he feels it would be nice to have a little boy just to watch football with," she said.
She added, "But he loves the whole daddy's girl thing. I love newborns but Pete doesn't. He likes them when they start talking and having a bit of a personality."
© Copyright IBTimes 2023. All rights reserved.