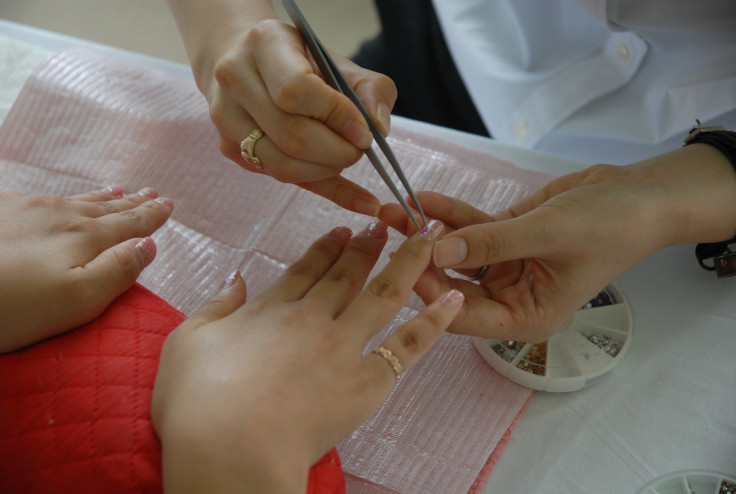 Nearly 100 people working at nail bars across the country have been arrested during raids, amidst a continued government crackdown on modern slavery and illegal working in Britain.
Some 97 men and women were detained on suspicion of immigration offences during the swoops on more than 280 salons earlier this month.
The majority arrested were Vietnamese nationals but also included those from Mongolia, Ghana, China, Nigeria, Pakistan and India.
More than a dozen people were identified as potential victims of modern slavery gangs, the Home Office said.
The week of raids, between 27 November and 3 December, saw some 68 businesses warned they could face fines of £20,000 (€23,480, $24,530) per illegal worker. This included salons in Edinburgh, Cardiff and London.
The Home Office ordered the raids under Operation Magnify, a cross government drive to stamp out illegal working by targeting specific "risk" industries, including those working as builders, taxi drivers and careworkers.
As part of the recent raids, 14 people were referred to a specialist unit of the National Crime Agency (NCA) as potential victims of slavery and human trafficking.
They will be given support but could be deported should they be found to be illegally residing in the UK, the Home Office said.
Ministers said the swoops on nail salons would send a "strong message" to people trafficking gangs.
Immigration Minister Robert Goodwill said: "Modern slavery is a barbaric crime which destroys the lives of some of the most vulnerable in our society. This Government has taken world-leading action to tackle it by introducing the Modern Slavery Act, giving law enforcement agencies the tools they need and increasing support and protection for victims.
"At the same time we have also introduced strong measures through the Immigration Act to tackle illegal working, including making it easier to prosecute employers who repeatedly break the rules and creating the power to temporarily close businesses that do not comply with the law."
In 2015, just over 3,200 potential victims of human trafficking were referred to a government-funded service run by The Salvation Army.
In July, Prime Minister Theresa May pledged to end modern slavery, calling it the "great human rights issue of our time".
She passed the Modern Slavery Act last year as home secretary to make it easier for law enforcement officials and the courts to punish illegal traffickers.
A review to mark the first anniversary of the Act found there had been 289 modern slavery offences prosecuted in 2015 and a 40% rise in the number of victims identified.
---
If you consider yourself to be a victim of modern slavery and are in need of assistance, or you suspect someone may be a victim of modern slavery, you can call the UK's modern slavery helpline on 0800 0121 700, which takes calls 24/7 on every day of the year.