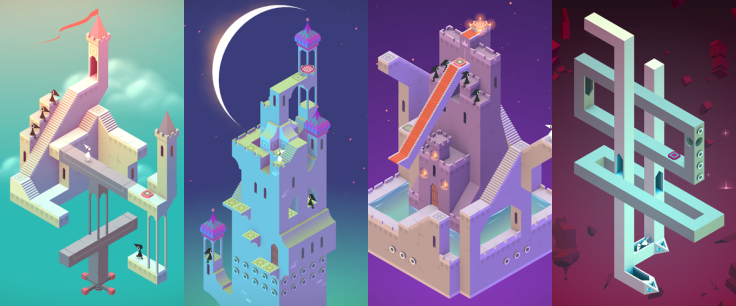 Monument Valley developer Ustwo has raked in almost $14.4m in revenue since its launch two years ago, the studio has announced. As part of its efforts to be transparent about its performance, the studio has released a detailed infographic showcasing financial figures and data collected until 3 April 2016 — the two-year anniversary of the game's release.
According to the developer, the game has been downloaded more than 26 million times to date with more than 23 million of those downloads coming in the second year. Although revenues did drop in the Monument Valley's second year from $8.01m to $6.36m, year two did include the game's second highest grossing day to date.
On 1 March 2015, the game pulled in almost $70,000 over a 24-hour span, two days after it was featured in House of Cards' third season where newly-inaugurated president Frank Underwood was seen playing the game on his iPad in one episode.
"We've actually had to spend a lot of time maintaining the game and finding new opportunities for people to find out about it," Dan Gray, head of studio at Ustwo Games, told The Verge.
Ustwo also reports that over 21 million of Monument Valley's total tallied downloads were free, excluding those that have pirated the game.
In December, 2015, Ustwo partnered with Apple to offer the game for free for one week. The game was also offered for free on Android via Amazon Underground in August 2015 as well. The game usually costs $3.99.
Last June, the developer teamed up with publisher iDreamsky to "re-develop" and launch the game in China. The Chinese version of the game allowed users to play the first few chapters for free before paying to unlock extra parts of the game. In China, the game has been downloaded more than 11 million times.
Despite garnering high praise for its beautiful minimalist 3D design, many players have complained that the game is too short.
While Monument Valley's base price does account for most of the revenue, Gray said the game's 'Forgotten Shores' expansion, which costs an additional $1.99, has been downloaded by about 35% to 40% of players.
"If the worst thing that people can say about your game is that they didn't have enough of it, and it wasn't long enough, then surely that's the feeling you want to leave people with," Gray said. "You want to leave people wanting more, instead of being tired of the game that you've made."
Monument Valley is available on the App Store, Google Play and the Windows Store for $3.99.