More than 180,000 people have signed a petition calling on UK Foreign Secretary Boris Johnson to step down in the wake of a controversy over damaging comments he made regarding a British citizen being held in Iran.
Johnson told a parliamentary committee earlier in November that Nazanin Zaghari-Ratcliffe, a charity worker and a project manager with the Thomson Reuters Foundation (TRF), was "simply teaching people journalism" in Iran when she was arrested in 2016. The 38-year-old mother from London was sentenced to five years in prison after being accused of leading a "soft coup".
Although his speech was welcomed, Johnson was criticised for incorrectly stating that Zaghari-Ratcliffe was in the country in a working capacity.
Both TRF and Zaghari-Ratcliffe's husband, Richard, maintain that the woman was on holiday at the time of her arrest – a central part of her defence – and called on Johnson to retract his remarks.
In spite of calls to do so, Johnson did not fully backtrack on his comments, nor did he apologise. However, he admitted he could have been "clearer" and suggested he goes to Iran by the end of the year to further discuss the case.
The Foreign Secretary is now facing calls to resign, amid fears Iran will exploit his comments to double Zaghari-Ratcliffe's sentence.
"Our government should be working day and night to help gain her release," read the petition on Change.org.
It calls on Johnson to resign because "he is for the job".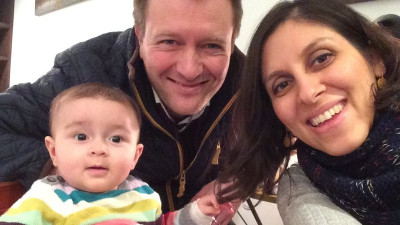 "Because he lobs grenades at sensitive situations. He lacks attention to detail. And in doing so, is a threat to British people and damaging overseas relations. That's why I'm calling for Boris to step down from his role as Foreign Secretary," it continues.
"This is not the only mistake Boris has made. Just last month he made jokes about clearing away dead bodies in Libya to turn Sirte into the next Dubai."
The petition was launched on 7 November, after MPs including Labour's Yvette Cooper and Green Party's Caroline Lucas called on Johnson to leave his office.
Meanwhile , others – including Conservative Sir Edward Leigh – defended Johnson, arguing that Iran, and not the Foreign Secretary, should be blamed for the treatment meted out to Nazanin Zaghari-Ratcliffe.
Foreign Office full statement:
"The Foreign Secretary called the Iranian Foreign Minister Javad Zarif this morning to discuss the case of Mrs Nazanin Zaghari Ratcliffe. He reiterated his anxiety about the continued suffering of Mrs Zaghari Ratcliffe and her family, and hoped a solution would be reached soon.
"The Foreign Secretary expressed concern at the suggestion from the Iranian Judiciary High Council for Human Rights that his remarks last week at the Foreign Affairs Committee 'shed new light' on the case. The Foreign Secretary said this was absolutely not true. It was clear, as it always had been, that Mrs Zaghari Ratcliffe had been in Iran on holiday when arrested.
"The Foreign Secretary made clear that the point he had been seeking to make in his evidence to the FAC was that he condemned the Iranian view that training journalists was a crime, not that he believed Iranian allegations that Mrs Zaghari Ratcliffe had been engaged in such activity.
"The Foreign Secretary concluded by emphasising that his remarks could form no justifiable basis for further action in this case and urged the Iranian authorities to release Mrs Zaghari Ratcliffe on humanitarian grounds. He set out his intention to visit Iran before the end of the year to discuss the case further.
"Mr Zarif said that the developments in the case over the weekend were unrelated to the Foreign Secretary's remarks and that he remained committed to working with the Foreign Secretary to finding a resolution to the case on humanitarian grounds.
"The Foreign Secretary accepts his remarks to the Foreign Affairs Committee could have been clearer on this aspect. He intends to update the House this afternoon."