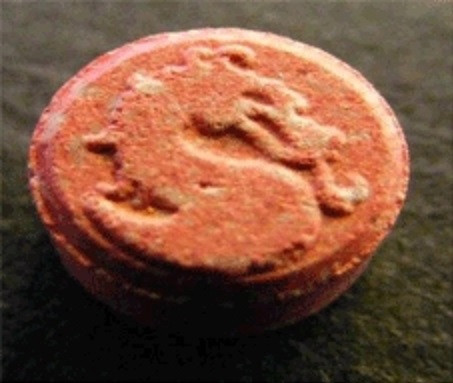 A party drug featuring a 90s computer game symbol could have killed a Glasgow reveller at the weekend.
A 17-year-old girl died in the early hours of Sunday morning after falling ill at a nightclub in the city.
Although the cause of her death is not yet known, police are linking four other illnesses in the city that night to the pill, which features a Mortal Kombat logo on it.
Three men and one woman were taken to hospitals in separate incidents in Glasgow and Ayrshire, as they began to feel unwell after taking drugs.
One woman, aged 19, was admitted to the Glasgow Royal Infirmary and three men aged 18, 26 and 27 were admitted to Crosshouse Hospital in Kilmarnock.
Detective Inspector Sharon MacGregor said it was difficult to know what chemicals were present in the drugs.
He said: "I can't stress enough how dangerous drugs are, sadly a young woman has died and several other young people are ill in hospital.
"Illicit drugs are unstable, unpredictable and extremely dangerous as this outcome shows, often the content of the drugs is unknown but they could contain dangerous chemicals and people need to understand the devastating effect they can have.
"I would strongly advise people to avoid illicit drugs and report any information to the police."
Glasgow Royal Infirmary Clinical Director of Emergency Medicine, Dr Alastair Ireland said: "We are deeply concerned about people taking this dangerous drug and cannot stress enough the effects they can cause including death.
"I would urge anyone who has taken one of these tablets and begins to feel unwell to seek immediate medical help."