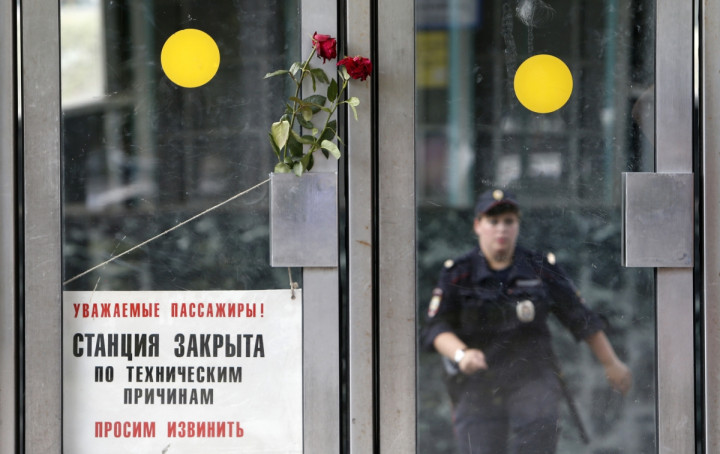 Police have detained two Moscow subway workers in relation to a deadly rush-hour crash in the Russian capital.
Some 22 people were killed and 136 injured, as a packed Metro train went off track in an underground tunnel section between the stations Slavyansky Bulvar and Park Pobedy, western Moscow.
Early investigations revealed that the derailment was likely caused by a faulty railway switch.
Detectives said that, during repairs to the line in May, the new switch had not been properly installed.
Russia's major investigative agency said a senior Moscow track foreman and his assistant had been held on suspicion of criminal negligence over the incident.
Detectives suspect they used inadequate wiring during the works.
"The switch mechanism was fixed with ordinary 3mm wire, which snapped," the Investigative Committee said.
The two, named as track supervisor Valery Bashkatov and assistant supervisor Yury Gordov, have been questioned and authorities are preparing to press unspecified charges against them, investigating committee spokesman Vladimir Markin said.
"So far we have the persons who did the job as suspects. But the Committee is determined to identify and prosecute everyone related to the tragedy, including contractors and officials, who were supposed to control the compliance of the works to the safety rules of the Moscow Metro," he said.
More than 1,100 people were evacuated as the train derailed during morning rush hours.
Photos and videos uploaded on social media showed passengers walking their way out of the tunnel along the tracks inside the dimly lit tunnel filled with thick smoke.
Eight people remain in critical conditions and 40 others have serious injuries, said Moscow Mayor Sergei Sobyanin.
Authorities said train services on the Arbatsko-Pokrovskaya "blue" line are expected to resume on Friday.