Among the super jumbos and fancy new private jets taking off at the Paris Air Show are the latest offerings in military aviation technology, including new drones that are described as more lethal than any before.
San Diego based Kratos Defense and Security solutions will be showing off its XQ-222 Valkyrie and UTAP-22 Mako drones, which have the ability to fly faster, higher and longer than the feared Reaper drone. Both Kratos UAVs are able to fly at around 700mph with the Valkyrie, at 30ft in length, being able to cover a range of 3,500 miles – over three times that of the Reaper.
Both are being billed as potentially the most lethal UAVs (unmanned aerial vehicles) to ever take to the sky thanks to jet-like agility to act as a 'wingman' to human-operated fighter planes, such as an F-35, and the ability to be operated in deadly swarms.
At a relatively bargain price of between $2-$3 million, as opposed to the $16 million MQ-9 Reaper, militaries could afford to put more in the sky during missions, leading to potentially the first unmanned swarms, effectively transforming the way aerial warfare could look in the future.
While the low-cost drones will be providing backup for now, thanks to their range and capabilities, they could possibly one day replace human-operated aircraft altogether, or in the first instance, see militaries scale back the number of fighter jets in their fleet – a move that would recoup millions in budget.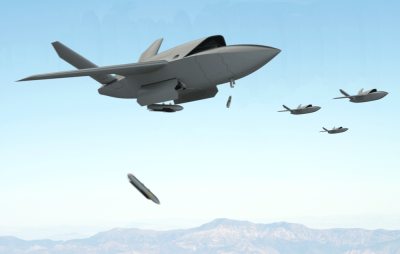 The MQ-9 Reaper drone succeeded the slower Predator drone, but both are largely used for surveillance. The 30 metre-long Reaper carries munitions in the form of missiles and can attack when instructed, but it is not designed to partner a plane in combat.
The Mako and Valkyrie will be nimble enough to do so, while also being able to carry weapons in their bomb bay to keep them stealthy.
While the drones will be present at the Paris Air Show, much to the disappointment of the crowd, Kratos will not be putting on an aerial demonstration. However, trials of the Mako have been taking place across test ranges in California, while Kratos aims to have the Valkyrie conduct its first flight by 2018.
The Paris Air Show will be open to the public from 23 - 25 June.