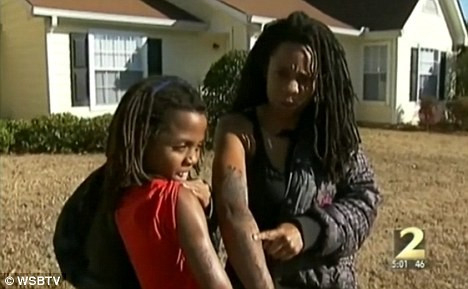 An American woman could face jail after she allowed her 10-year-old son to have a tattoo in what she felt was a fitting memorial for his dead brother.
Chuntera Napier, from Cobb, Wisconsin, allowed her son, Gaquan, to get the tattoo, arguing: "It's not like he was asking me, 'can I get SpongeBob?'"
Gaquan's brother, Malik, died in a car accident two years ago and Napier claimed her son asked her for the tattoo to remember him by. The simple tattoo, on his right arm, says: "Malik, Rest in Peace".
She said: "My son came to me and said, 'Mom, I want to get a tattoo with Malik on it, rest in peace.'
"What do I say to a child who wants to remember his brother? It's not like he was asking me, 'can I get Sponge Bob?' Like people getting all kinds of things on them.
"He asked me something that's in remembrance of his brother. How can I say no?"
A teacher raised the alarm after he saw the body art on Gaquan. Napier was subsequently charged with cruelty.
The tattoo artist who did the work on the boy was also arrested. Wisconsin law bans tattoos for under-18s, even with parental permission.
"How can somebody else say that it's not okay? He's my child and I have the right to say what I want for my child," Napier said.
"I can't tell anybody else what I want for their child."