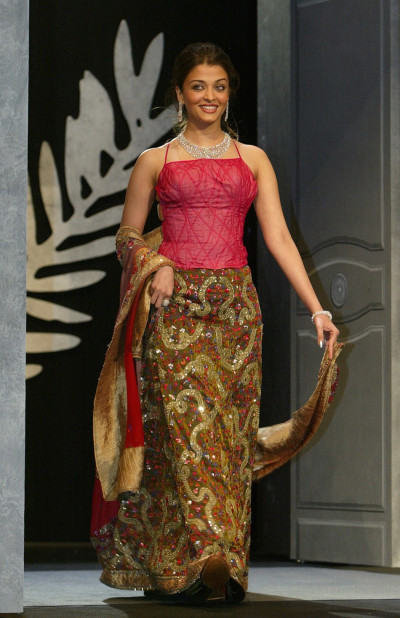 Aishwarya Rai Bachchan has been voted the "Ideal Celebrity Mother" in Bollywood by online participants of a survey conducted by matrimonial site Shaadi.com. Aishwarya got over 54 per cent votes beating other celebrity mothers like Karishma Kapoor, Lara Dutta and Malaika Arora Khan.
The actress, who is married to Bollywood actor Abhishek Bachchan, became a mother in November 2011.
After weeks of speculation and rumours, Aishwarya has finally confirmed that she will be attending the Cannes Film Festival, which she has not missed for the last ten years consecutively. If she takes her daughter, Aaradhya Bachchan, along with her, it will be the first public appearance for Beti B. L'Oreal, the cosmetic brand represented by Aishwarya, has officially confirmed that the actress will walk down the red carpet at Cannes.
"Aishwarya will take her daughter along with her as she cannot stay away from the newborn," Aishwarya's spokesperson confirmed.
Amid reports that Aishwarya's weight gain is preventing her from going to Cannes, her spokesperson clarified that the actress is not really worried about her looks.
"She is enjoying motherhood and not worried about how she looks," the spokesperson said.
All eyes are on what Aishwarya will be wearing for the prestigious film festival. According to reports, she is likely to choose an ethnic fit from an Indian designer. In her first public appearance post-pregnancy, she was seen wearing traditional Indian attire. Also for her first appearance at Cannes, Aishwarya wore a traditional Indian "lehenga".
In Hollywood the title for the best celebrity mother goes to Angelina Jolie. Jolie, married to actor Brad Pitt, is the mother of six children. Jolie topped the list in yet another poll. The poll conducted by Working Mother Magazine has revealed that Angelina Jolie and Beyonce Knowles are the most powerful mothers of 2012. According to Contact Music, the list has been compiled based on their positions in the respective careers.
"They are just a few of the mums making a major impact right now. All of the power women on our list have at least one child 18 or younger, and all are based in the US," said Jennifer Owens, Working Mother Media's editorial director.