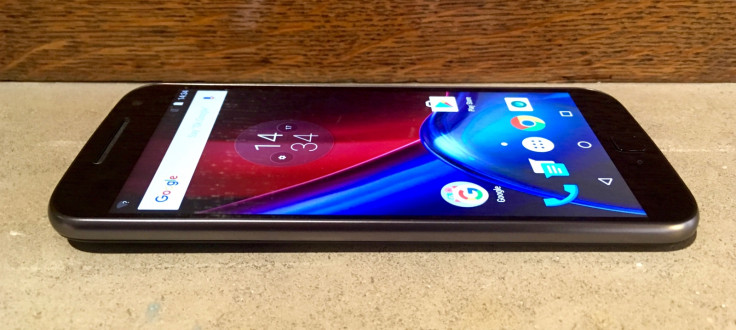 The Moto G4 Plus has introduced some new gesture controls as well as maintained some old ones that existed in earlier Moto phones. These controls can come in handy in situations where the user does not have enough time to unlock their screen and open these essential apps/features.

IBTimes UK explains you how to use the gesture controls on the Moto G4 Plus.
How to turn on and off flashlight
Users have rated this gesture control over the years as an important one because an individual immediately needs access to a brighter light during a power cut, when strolling through dark outdoor areas or just any other dimly lit areas. Instead of taking four to five steps to switch on the torch light the Moto G4's gesture allows one to avail this function through a shortcut.
To perform this function just hold your phone and do two karate chops in quick succession. To turn off the torchlight perform the same gesture. The gesture control for torch will work regardless of the phone being locked or open.
How to turn camera on
Sometimes that perfect click needs to be taken in few seconds without wasting time unlocking phones and finding the camera app. Moto G4's gesture controlmethod for Quick Capture helps you achieve that. To perform this just hold your phone and twist the wrist of the hand you are holding it in twice in quick succession. The camera app will automatically open without the need to unlock the screen.
The app will open the rear camera by default. To capture a selfie and use the front camera just twist your wrist twice once again. However, for closing the app the gesture does not work and one has to either press the home button to go back or the power button to lock the screen altogether.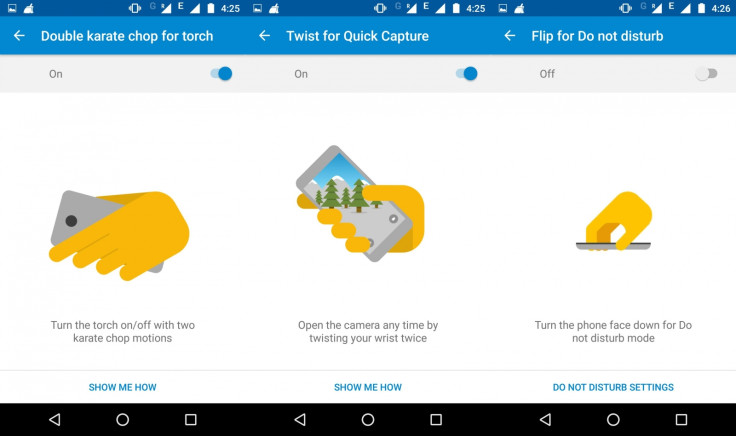 How to turn on do not disturb mode through gesture
More than often we are caught in meetings, movies or discussions prior to which we forget to switch off the volume or place the device on vibrate mode. Although a tap on the power button ensures that a call stops ringing or vibrating, future calls can only be stopped by unlocking the phone and changing the profile or long holding the power down button.

A more simple way to stop these calls and put your phone on the do not disturb mode, just simple flip your phone the other side. Make sure you check your priority only settings to see what all has been silenced under this mode before you can activate this feature.
How to make the phone stop ringing
We do not see use for this gesture much, as the same action can be performed by just pressing the power button. Still for those who want to work with gestures and familiarise themselves with controls of the Moto G4, to perform this function just simply lift the phone to switch incoming calls to vibrate mode.

Make sure that before you try any of these gestures you head over to Moto and go to Actions to see if the gestures are turned on or not. In case you find a gesture annoying like many find the torch gesture automatically switching on and off then you can even deactivate it.