Moto G4 Plus review: Big screen and better camera improve our favourite mid-range handset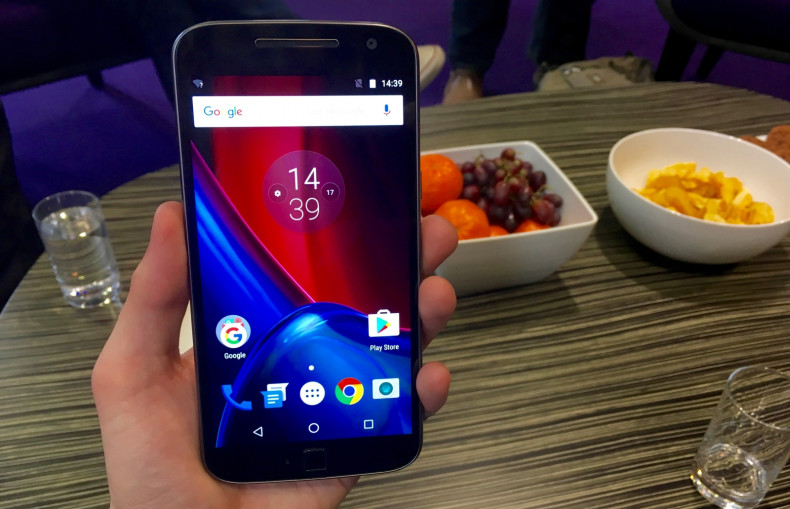 Having recently purchased the Motorola brand, Lenovo has now set out on refreshing our favourite mid-range smartphone, the Moto G. For 2016 it has come up with the Moto G4 and this, the Moto G4 Plus.
The handset gets the largest screen ever fitted to a Moto G, at 5.5in, as well as an upgraded camera and faster performance. But along with these updates, Lenovo has also given the handset a higher price, up from £159 for the Moto G from 2015, to £245.
Is the Moto G still worth a look in, or has it fallen into a no-mans' land somewhere between budget and flagship? IBTimes UK tells you in detail if the G4 Plus is the perfect mid-range handset you should pick up this summer.
---
Lenovo Moto G4 Plus: Design and Build
At 155g, the G4 Plus weighs exactly the same as the Moto G 2015 model and really feels light despite being a phone with a large screen.The power and volume buttons are both placed on the right side of the phone and the headphone socket and Micro-USB port are on the top and bottom respectively.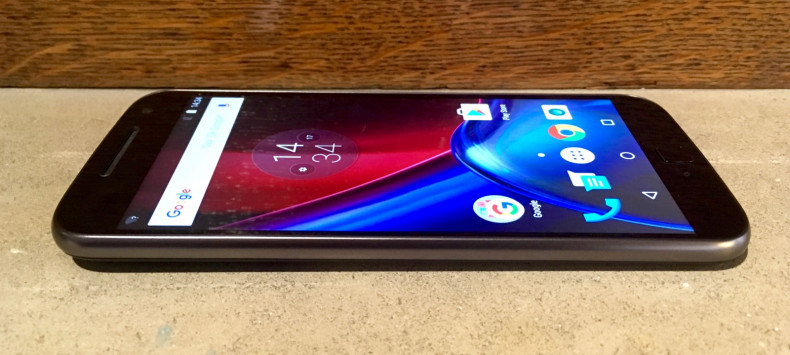 What's disappointing in terms of design is the lack of aesthetic innovation as well as the plastic back panel, which is rather flimsy. Another major letdown is Lenovo deciding to remove waterproofing, which is a real shame as now the Moto G can only survive a few light splashes and not being fully submerged, as its predecessor could.
Lenovo Moto G4 Plus: Screen and Display
The G4 Plus comes with a 5.5-inch Full HD display with a resolution of 1920 x 1080, as opposed to the displays of the last two Moto Gs, which both measured 5in and had a slightly disappointing 720 x 1280 resolution. The display on the new Moto G4 is quite vibrant and can be read easily in bright sunlight; as well as this, it manages to produce a mixture of good colour and black levels.
The trademark horizontal bottom grille of the Moto G has been swapped for a square fingerprint sensor which Lenovo recently declared would be a standard feature on all mid-and high-end Moto smartphones going forward. The sensor can recognise fingerprints from any angle and a number of prints from different hands can be saved to the phone; overall the feature seems to work quite well. The screen is protected by Corning Gorilla Glass 3 and produces richer colours than the last Moto G.
Lenovo Moto G4 Plus: Camera
The rear camera is one of the major highlights of the phone and has a rather generous 16-megapixel sensor, which is larger than both the Samsung Galaxy S7 and iPhone 6S. The phone also gets a new laser autofocus system to quickly snap nearby objects in low light. There are two camera modes - normal and professionalgives you manual control of various settings, including ISO, aperture and white balance. As for video there is regular Full HD video shot at 30 frames per second, plus a slow motion feature which shoots at 120 frames per second, but at a curious resolution of just 500p, as opposed to 720p on the 2015 Moto G.
Below are some pictures depicting the two photography modes. As you can, see the professional mode gives finer clarity in terms or crispness, sharpness and colour contrast as they can be all manually adjusted.
The rear camera's customisation is useful for amateur and even professional photographer who may not feel like carrying around a bulky DSLR.
The professional mode is a treat as one can adjust all necessary elements like ISO and contrast. Its rather simple to use and those not too familiar with these controls would also get some enjoyment out of the flexibility on offer, even if they only learn how to use each setting gradually.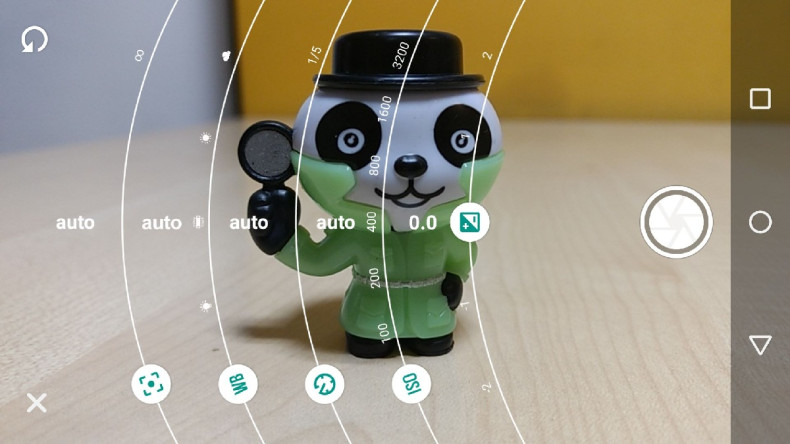 The low-lighting image quality of the phone is one area where the camera fails to deliver. The two images below show how the same subject is captured with (right) and without flash. We feel, even without the flash, the scene below should have been captured in greater detail than it was.
The larger pixels and optical image stabilisation of more expensive phones would have made for a beautiful shot here, and even though the Moto G4 is a good chunk cheaper than the industry leaders, the new, higher price point Lenevo has given it means there is really no excuse for these poor low-light snaps.
There is a brightness adjuster on the device, however, but using it in excess results in grainy and pixelated images.

The front snapper features a 5-megapixel sensor which produces crisp and sharp selfies; it also feels faster than all previous Moto G phones. Moto-branded phones have traditionally never been famous for their cameras but this time the Moto G4 Plus does an admirable job. It's just a shame about the below-par low-light performance.
Lenovo Moto G4 Plus: Processor, RAM, OS and Performance
In terms of performance the device is super smooth with no lags or freeze issues even when playing videos or graphically intense games. The Moto G4 Plus comes with storage options of 16GB and 32GB(as reviewed), with the former having 2GB of RAM and the latter being treated to 3GB.
The 2015 Moto G featured a quad-core Qualcomm Snapdragon 410 processor clocked at 1.4 GHz, while the newly released Moto G4 has an octa-core Qualcomm Snapdragon 617 chipset clocked at 1.5 GHz. Put simply, the faster octa-core processor means the new handset performs better than its predecessor.
As is the case with all Moto smartphones, the G4 Plus runs on a near-stock version of Android, and in this case it is Marshmallow 6.0.1. Apart from that, you get the usual suite of Moto enhancements which include Moto Display and Moto Actions, as shown in the settings menu below.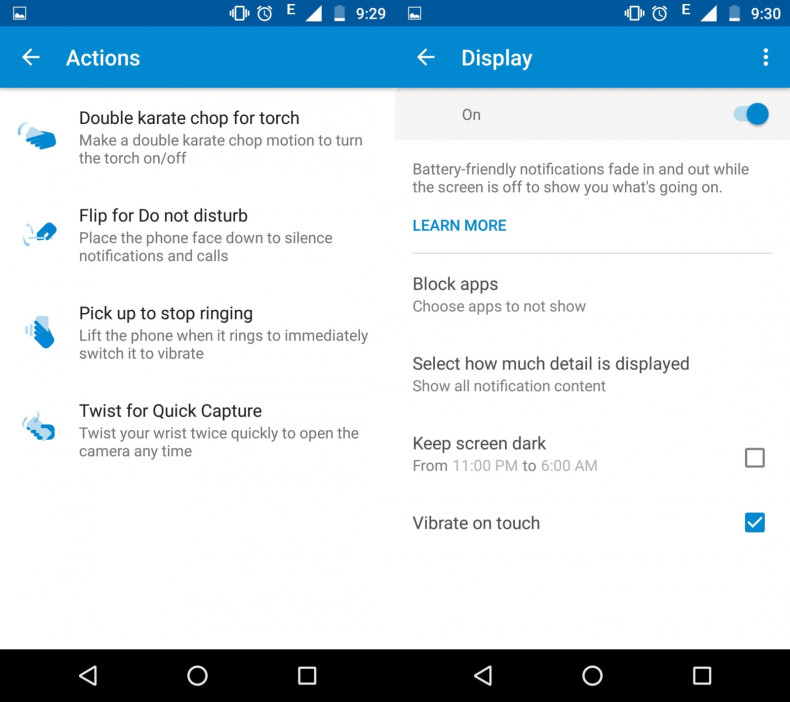 For a quantitative analysis of the performance of the phone we tested it on one of the most popular benchmarking providers - AnTuTu. The testing app gave the Moto G4 a score of 45,055, and a ranking of 25 among all the top Android phones and iPhones all of time.
While it may seem rather low compared to the LeEco Le Max 2 which scores a mammoth 138,026, we must remember that the Moto G4 is a mid-segment phone and close to $100 to $200 (£70 to £140) cheaper than most of the models that outperform it. The Xiaomi Redmi Note 3 could be seen as a real rival to the Moto G4, as it sets a fractionally higher AnTuTu score, yet costs less, at around £120. But, where the Moto can be bought on Amazon with next-day delivery, Xiaomi handsets are different to buy in the UK and aren't sold on the high street at all.
Lenovo Moto G4 Plus: Battery life
Ever since the 213 original the Moto G has always had good battery life, and the new G4 is no different.
During testing we found a full charge lasted us a a day and a half with moderate use, including internet browsing and video streaming. The highlight for the battery here is the Turbo Power charger which took less than 20 minutes to charge the phone from 10% to full. However, the cable is attached to the mains plug, so for data transfers you'll need to use a different USB cable.
The Moto G has always been a best-seller and the Moto G4 Plus' specifications and pricing also indicate Lenovo has a top-seller on its hands. The camera with its breadth of features is surely something you are not going to get at this price range in other handsets and is the highlight of the phone.
Putting the Xiaomi Redmi Note 3 to one side, the Moto G4 is the best buy you can get in this price range right now. Lenovo took a gamble upping the Moto G price and giving it a larger screen, but as far as we're concerned that gamble has paid off.
Scores
Design: 6/10 - Not much innovation over previous Moto Gs, but its fast becoming the de facto Moto design.
Screen: 8/10 - Really good for a budget/mid-range phone and the highlight is the vibrant colours.
Camera: 8.5/10 - The rear camera is the best part of this phone and can compete with anything else at this end of the market, and perhaps even embarrass some flagships, but low-light performance is still a problem.
Software: 8/10 - Stock Android experience with 6.0 Marshmallow and some useful Motorola customisation.
Build quality: 6/10 - Feels flimsy, especially the back panel. Better material would have enhanced the build quality of the phone. You should get a case or cover, as it seems fragile.
Overall: 7/10 - Excellent rear camera, with good software and performance. The handset could have been a little better looking though and some work is still needed on the low-light camera performance. A great value for money product nonetheless.
The Good:
Good value for money

Excellent rear camera (in the right light)
The Bad:
Same old design

Build quality feels sub-standard
Tech Specs
Display: 5.5-inch
Resolution: 1080x1920 pixels
Processor: Qualcomm Snapdragon 617, 1.5GHz
Camera: 16-megapixel rear and 5-megapixel front
RAM: 3GB
OS: Android 6.0.1 Marshmallow
Storage: 32GB, expandable up to 128GB via microSD card
Battery capacity: 3000mAh