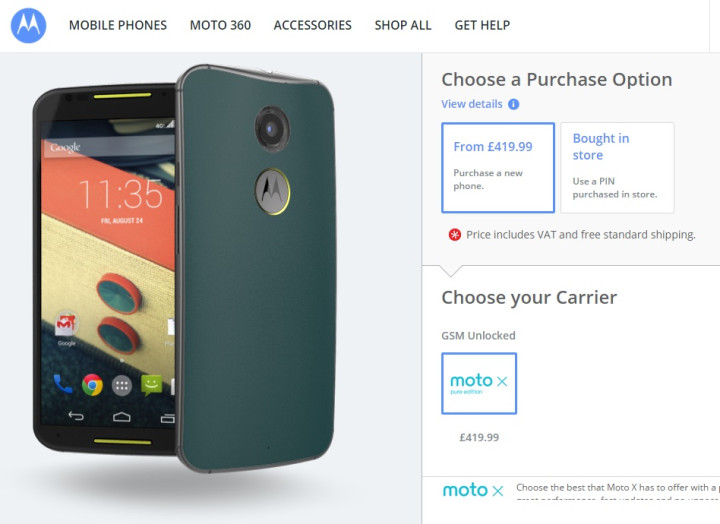 If you are a user of Motorola's Moto X (2014), check out for Google's Android 5.0 aka Android L 'Lollipop' OS update.
According to a PCWorld report that quotes an official Motorola posting and Google+ posts of multiple users (both of which now appear to have been taken down), Android 5.0 has already started seeding to users of the Bloatware-free 'Pure Edition' variant of Moto X, and users having signed up for Motorola's 'Soak Test'.
However, since both the sources cited by the PCWorld report now seem to have been taken down by Motorola and Google respectively, you can let us know whether your second-gen Moto X 'Pure Edition' smartphone has received the Android L 'Lollipop' OS over-the-air (OTA) upgrade.
Also, a report published in Android Police mentions about Motorola having officially begun the Soak Test for select users of Moto X 2014 Pure Edition.
According to the Android Police report, users can expect the following new enhancements within Android L 'Lollipop' update:
'Material Design' user-interface that promises a refreshed and more intuitive UI
Enhanced security, improved battery saver functionality, brand new notification control, and other minor improvements
Interruption Control and Screen Pinning functionality
At this juncture, it is interesting to note that Motorola has listed the Moto X (2014) on top (before other smartphones) in its Android update roll out schedule web page. This aspect also throws more light on the fact that users of (variants apart from the Pure-Edition Moto X 2014) second-gen Moto X will be the first to get Android L, before users of other Motorola smartphones receive the OS upgrade.
However, it is still not clear, as to when Google will roll out the Android L 'Lollipop' OS update, to users of older Nexus range of devices.
Do let us know (in our comments section below), as and when you receive Android L 'Lollipop' for your devices.