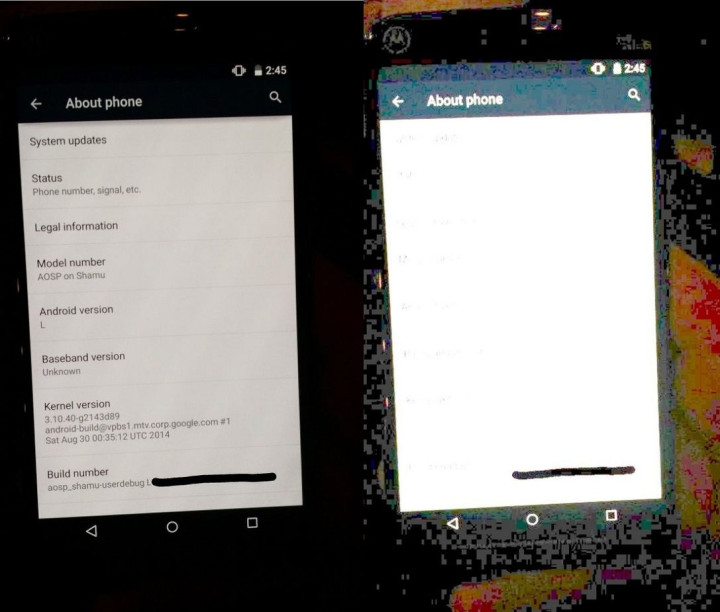 With the November release timeframe nearing, the next Nexus smartphone manufactured by Motorola, rumoured to be called Shamu aka Nexus X or Nexus 6, is making its appearance via leaked photos and specifications.
Following an earlier leak, which shows the Motorola Shamu placed next to a Verizon LG G3 variant, a tipster at Droid Life has posted a few more photos of the purported Shamu in the comment section showing the "About phone" status of the smartphone.
What can be clearly noticed in the "About phone status" is that the Motorola Shamu runs on the AOSP build with Android version listed as Android L. Besides, it is running on Google's kernel built, 3.10.40-g2143d89 android-build@vpbs1.mtv.corp.google.com # 1.
The kernel version is about two months newer than the one that was spotted in a leak in July. The kernel version suggests that Shamu has received an updated kernel build from Google, which again hints that the device is a Google product.
While the photo does not reveal many hardware details, what is apparent is the shape of the device which matches with the recently leaked photo and the corner curves of Moto X, claims Android Police.
Besides, there is a front-facing speaker and the Motorola watermark on the top-left corner of the device, which is like the any other unreleased product of the company.
The Nexus X is expected to pack a 5.92in screen with QHD resolution at 2560 x 1440 pixels with pixel density at 498 pixels per inch (ppi).
There will be a 13 megapixel rear camera with 4K UHD video recording and a two megapixel front-camera.
Motorola is likely to use the Snapdragon 805 processor, with 3GB RAM. A battery of 3, 200mAh will power the next Nexus version.